NBA 2k23 NBA League Pass – Fix League Pass Issues
During the NBA season, basketball fans have access to NBA games through the direct subscription-based product known as NBA League Pass. During the game season, they can stream live games and even games on demand.
Additionally, all NBA app services are available to League Pass holders. However, despite all of this, the service is subpar.
During playback, the stream has been criticized by numerous users for lagging and freezing. This is a huge disappointment because it makes no sense to subscribe to a sports plan if you can't watch live games.
So, in this article, we'll talk about ways to try, fix the problem with NBA League Pass, how to get the code, and when the code for NBA League Pass runs out. Therefore, without further ado, let's get started.
How to Get NBA League Pass Code in NBA 2K23
Start the game after installing the NBA 2K23 Championship Edition on your device.
Use the email you prefer to use to create a new 2K Account. Verify and make sure your email is accurate.
Select Feature > Options > Settings from the Main Menu. For a link to verify your account, check your email.
If you purchased a physical copy of NBA 2K23 Championship Edition, the redemption instructions can be found in the game's box insert.
You must complete the above steps by December 18, 2022, in order to receive your NBA League Pass code. After completing each step, you will receive your codes via email within five days.
How to redeem locker codes in NBA 2K23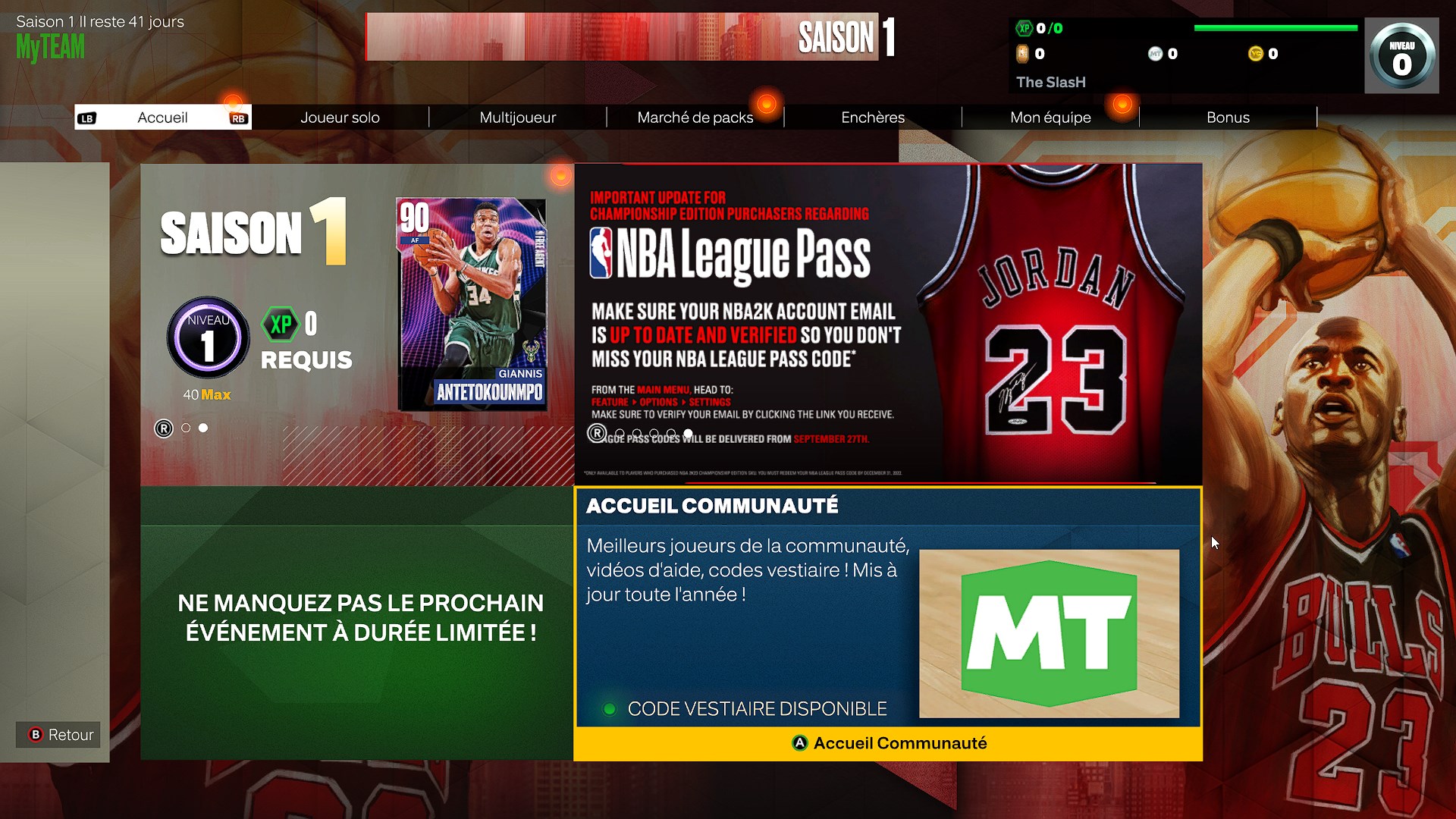 It's important to know exactly where and how to enter locker codes because they change quickly in the game. To get your rewards quickly, follow these steps:
Launch the game up
Tap on 'Myteam' menu
Go to the Community Hub section
Tap on 'Locker Codes'
Put the code in carefully
NBA 2K League Pass Key Dates & Expiration
Before December 18, 2022, use your NBA 2K23 Championship Bonus Content Code. By December 31, 2022, use your NBA League Pass code.
Why is My NBA 2k23 App Not Working Today?
There could be several reasons why the My NBA app is not working for you today. Some common issues that can cause the app to not work properly include:
Network connectivity issues
App updates
Server issues
Device compatibility
If you're experiencing issues with the My NBA app, you can try the following troubleshooting steps:
Check your network connection to ensure that you have a stable internet connection.
Check for any available updates to the app and install them if necessary.
Restart your device to clear any temporary issues that may be affecting the app.

Uninstall and reinstall the app to see if this resolves the issue.
Issues with NBA League pass
Some common problems that NBA League Pass users may experience include:
Blackout restrictions: NBA League Pass may not allow you to watch certain games due to blackout restrictions. These restrictions are in place to protect the local broadcasters who have exclusive rights to broadcast games in certain regions.
Technical difficulties: Users may experience technical difficulties when trying to access NBA League Pass, such as slow loading times, buffering, or error messages. These issues can often be resolved by refreshing the page, clearing your browser cache, or restarting your device.
Subscription issues: Users may have trouble logging in, renewing their subscription, or cancelling their subscription. If you're experiencing any subscription-related issues, you should contact the NBA League Pass customer support team for assistance.
Regional availability: NBA League Pass is not available in all regions. Some countries may have limited access or may not be able to access NBA League Pass at all due to regional restrictions.
If you're experiencing any problems with NBA League Pass, you can visit the NBA League Pass support page or contact the customer support team for assistance.
Can you share NBA League pass
Unfortunately, I cannot share NBA League Pass with you. NBA League Pass is a paid subscription service that provides access to live and on-demand NBA games. Sharing login credentials or accessing the service without paying for it is against the terms of service and is illegal.
If you're interested in subscribing to NBA League Pass, you can visit the NBA website to learn more and sign up for the service.
Is NBA League pass free
NBA League Pass is not free, it is a paid subscription service that provides access to live and on-demand NBA games. The cost of NBA League Pass varies depending on the plan and the region where you're located.
However, the NBA does offer a limited-time free trial period for NBA League Pass to new subscribers, which allows you to test out the service before committing to a paid subscription. Additionally, some NBA games may be available to watch for free on certain TV networks or online platforms, but the availability of these games may vary depending on your location and the broadcast rights in your area.