BREAKING: Anthony Joshua defeats Jermaine Franklin by unanimous decision
To nobody's suprise, Anthony Joshua has won a 12-round unanimous decision Jermaine Franklin by scores of 118-111 and 117-111 (two times).
Joshua appears glum in his corner, perhaps conscious of the fact that his performance will not frighten Fury, Wilder, Joyce, Anderson, or the other heavyweight contenders.
All Rounds
Round 1
There's the bell! And Joshua immediately connects with a crisp jab. The Watford man's career-high weight cuts an intimidating presence that's dwarfing his much-smaller American foe, but AJ does look somewhat tentative and tense as this mostly feeling-out round progresses. Joshua continues to score sparingly with the jab behind a tight guard, but any thoughts that Joshua would come out guns blazing have been swiftly dismissed.
Round 2
Franklin lands an overhand right and Joshua cracks back with a vicious counter. Franklin lands another right hand and Joshua is bleeding heavily from his nose. Joshua lands a big straight right, the best punch of the fight so far. Both men landed solid shots but nothing of major consequence. Joshua just nicks the round on our card, but still looking worryingly stiff while Franklin keeps moving confidently forward. AJ has landed 19 of 65 punches so far (including 11 of 44 jabs), according to Compubox's punch statistics, compared to nine of 53 for Franklin.
Round 3
Franklin walks right into a right hand, but keeps moving forward undeterred. Joshua has been more active and keeps landing shots, but the American has made a habit of immediately throwing back. Franklin lands a good inside left hand to the body. Joshua lands a big shot right at the bell, but Franklin walks back to his corner smiling. Another close round but Franklin has done just enough to edge it against Joshua, who looked no more comfortable in the third round than in the previous two.
Round 4
Joshua enjoys his best round of the fight so far by loosening up and keeping his opponent at distance. He keeps working that powerful jab from the outside, landing it almost at will and swelling Franklin's right eye. There's an explosive exchange along the ropes near the end of the round, but Joshua emerges unscathed.
Round 5
Better from Joshua, who lands a stinging right over the top in the early stages and is starting to let that right hand go more. Franklin has taken AJ's singular offerings well so far and it's clearly going to require a sustained attack to get him out of there. Joshua's jab wins him another uncontroversial round. Opening up the combination punching could close the show before long.
Round 6
Franklin's movement has waned over the past couple of rounds, presenting Joshua with a more stationary target. A dangerous game. The Michigan man is struggling more and more to close the distance, paying a cost whenever he tries to slip inside. A valiant effort by the American but another clear round for Joshua, whose jab is winning the day.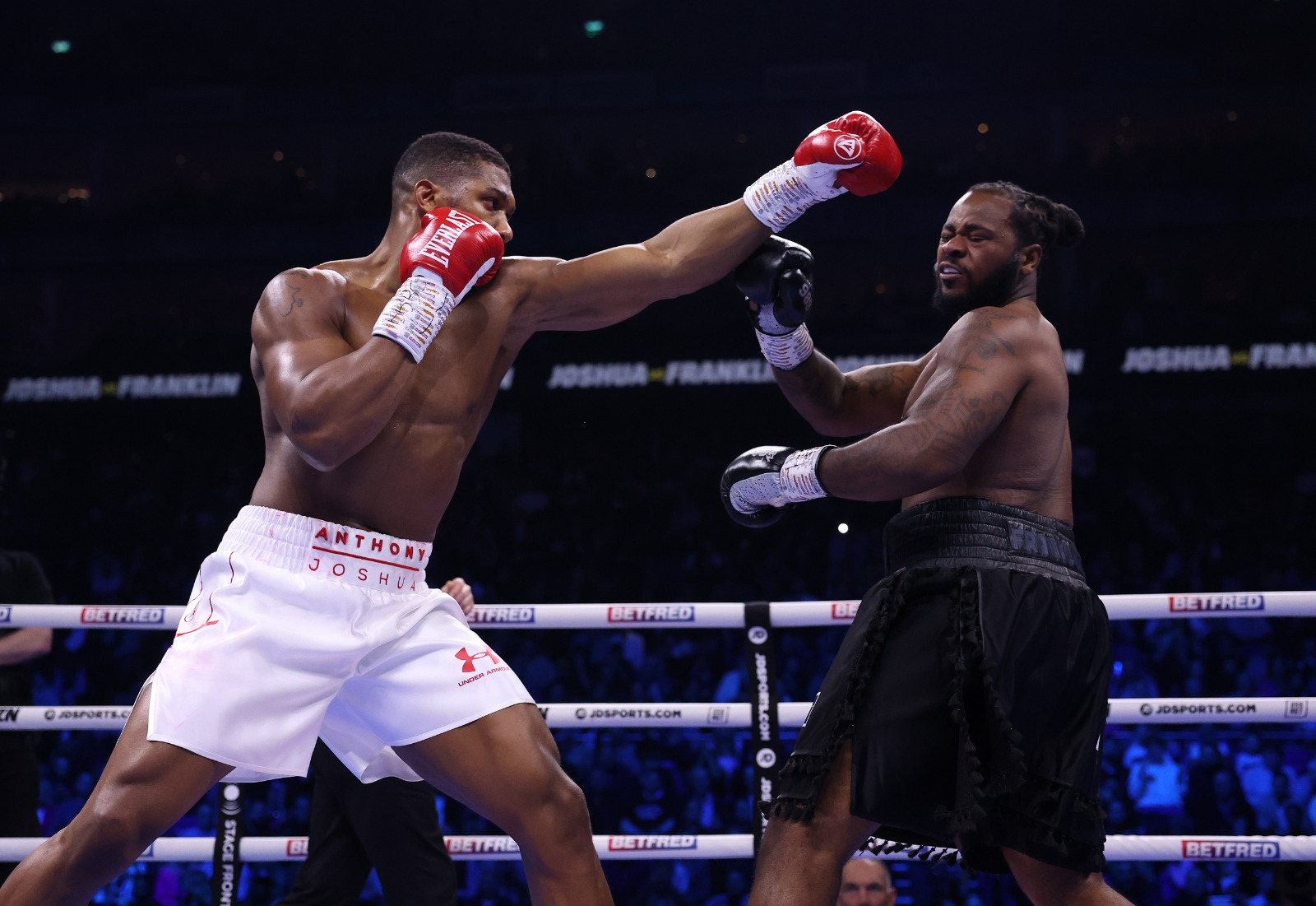 Round 7
More of the same from Joshua, who is winning comfortably behind the jab against an opponent hand-picked to make him look good, but hardly putting fear into the fighters at or near the top of the heavyweight division today.
Round 8
Joshua is in total control here, pecking away with the jab and using his 20lb weight advantage to grab and hold and lean on Franklin. Does the American have a fight-changing punch left in him?
Round 9
Joshua's jab has lost his sting. He's pawing with it, perhaps waiting for Franklin to walk into a right hand. The round follows what's become a familiar pattern for two and a half minutes with Joshua boxing effectively until Franklin lands a huge right hand near the end of the round that rocks the Briton and moves him backward. A big moment but the American can't follow up on it and it's not enough to undo Joshua's previous work.
Round 10
Some genuine two-way action, finally, as the fighters come together for a series of explosive exchanges from bell to bell … with Joshua getting the better of them. Franklin does well to stay upright after eating a bounty of Joshua hooks and uppercuts that land flush.
Round 11
Joshua hurts Franklin with a body shot. Franklin is hurt! He's grabbing and holding onto his British foe. Can Joshua finish the job? Franklin lands a sharp counter right. He looked badly hurt moments ago but has found his footing, but he keeps absorbing Joshua blows. Clearly, he will need a knockout in the 12th.
Round 12
Joshua appears to have Franklin hurt with about a minute to go, but Franklin makes it to the final bell. He's gone the distance with a former two-time world champion. There's a bit of a scuffle after the bell – more action than we saw for long stretches of this bout – with both fighters being restrained by their trainers. We're waiting on the official scorecards. It will surely be a unanimous-decision win for Anthony Joshua, but hardly the statement win that he so desperately needed.
Gervonta 'Tank' Davis scores Ryan Garcia seventh round KO
"Tank" stays undefeated with one more crushing knockout.
Even though there didn't appear to be much on it, Gervonta "Tank" Davis's punching power is demonstrated by the fact that there was not much on it.
Ryan Garcia fell to the ground seconds after Davis landed a brief, left-handed liver punch. Seconds later, Garcia was counted out, and "Tank" recorded the seventh-round KO to stay undefeated before a raucous crowd at T-Portable Field in Las Vegas.
Rounds
ROUND 7
Garcia landed a huge right punch to start round seven, but Davis connected a shot to the stomach that made "King Ry" drop to his knee.
ROUND 6
Garcia finally connected with a couple right fists after three poor rounds, but has yet to show anything like his flurry of combos in the second frame.
ROUND 5
Davis continued to dominate Garcia with some powerful blows. Garcia hasn't looked right since getting knocked down in the second round.
ROUND 4
Garcia remained cautious, with Davis counter-striking effectively to the body and head. A slow round compared to the last three.
ROUND 3
Round 3 started with both fighters sizing each other up and talking a bit of trash. Garcia looked a lot more careful after getting dropped and Davis became the aggressor.
ROUND 2
Garcia hurt Davis a couple of times in the second round. "Tank" had no response but to try to hug "King Ry." Garcia hounded Davis and kept connecting vicious blows. Davis then rocked Garcia and dropped him. Garcia went quickly back up to his feet. The fighters seemingly settled in as the bell rang.
ROUND 1
Garcia was the aggressor to start the opening frame. Davis is known for his slow starts, but he threw less than a handful of punches.
Gervonta Davis vs Ryan Garcia: How to watch, date, venue, live stream
Gervonta Davis and Ryan Garcia will at last fight in Las Vegas this end of the week in one of the most profoundly expected battles of the year.
For several months, the two Americans have been eager to meet, despite their unbeaten records.
After a lot of back-and-forth, the two superstars are now ready to fight in the ring after having a fight during their weigh-in and having to be separated.
Garcia weighed 135½ pounds, while Davis weighed 135.1 pounds.
'Tank' Davis has won each of the 28 of his proffessional battle to date and cut off Hector Garcia in January.
In the mean time, 'KingRy' Garcia has guaranteed 23 triumphs in succession and beat Javier Fortuna the previous summer.
Davis vs. Garcia is expected to be one of the best fights of 2023. Both fighters have agreed to put their entire purses on the line, so there is a lot to fight for.
Davis vs Garcia: Date and start time
This 12-round lightweight fight will occur on Saturday, April 22.
It will be held in Las Vegas, Nevada, at the T-Mobile Arena by 8 p.m. ET / 1 a.m in US.
The main card is scheduled to start at midnight UK time, with the ringwalks for Davis vs Garcia set for around 5am on Sunday morning for Nigeria and UK fans.
Watch Gervonta Davis vs Ryan Garcia in US
The fight will be available on PPV through Showtime and DAZN. Davis vs. Garcia begins at 20:00 ET and is priced at $84.99 in the United States.
Watch Gervonta Davis vs Ryan Garcia in UK
The main event and undercard will be shown live on DAZN, with their coverage scheduled to start at 2am on Sunday morning in the UK. Fans can sign up to DAZN for £9.99 per month to watch the bout live at DAZN or via the DAZN app.
Watch Gervonta Davis vs Ryan Garcia in Nigeria
If you are in Nigeria, Ghana, South Africa or some parts in Africa, you can watch the match live on SuperSport Action, and SuperSport Variety 3 (DStv channel 201, 210 & 208)
How to stream Gervonta Davis vs Ryan Garcia for free?
We will drop a live LINK here few minutes before the showdown, just comeback and refresh this page or save our live stream page link.
UFC 287: Israel Adesanya scores incredible knockout to reclaim Middleweight title
At UFC 287, Israel Adesanya defeated Alex Pereira via brutal knockout to exact sweet revenge.
In November, Pereira defeated Adesanya to oust the middleweight champion, but the Kiwi was determined to reclaim his title in Pereira's first defense.
In the first round of the fight in Miami, the two exchanged calf kicks, which worked well for Pereira last year.
Be that as it may, Adesanya had a steely search in his eyes and he had a response for Pereira as the rhythm lifted in the subsequent round.
The Brazilian landed a jab, but just as it appeared that he had the advantage, Adesanya retaliated with two powerful punches that knocked Pereira out right away.
Jon Anik, a UFC commentator, said that Pereira was "knocked out cold."
Joe Rogan yelled, Goodness gracious! I can't believe it!"
Adesanya made this emphatic statement after losing to Pereira in two kickboxing fights and the UFC last year.
He defeated a fighter who many believed to be invincible out of a desperate desire to demonstrate that Pereira did not have his number.
Adesanya vs Pereira round-by-round updates:
Round 1: Adesanya and Pereira demonstrate their kickboxing prowess by trading numerous calf kicks.
In their first fight, the strategy worked well for Pereira, but Adesanya kicks better early on.
In his commentary, Joe Rogan stated, "Izzy has an angry look in his face." 10 to 9 Adesanya
Round 2: Beginning with punches, both fighters opened their shoulders. Adesanya countered with a pair of punches that floored Pereira just as Pereira was about to corn Adesanya against the fence.
That was the end of it: Adesanya jumped on top of him.