BREAKING: Anthony Joshua defeats Jermaine Franklin by unanimous decision
To nobody's suprise, Anthony Joshua has won a 12-round unanimous decision Jermaine Franklin by scores of 118-111 and 117-111 (two times).
Joshua appears glum in his corner, perhaps conscious of the fact that his performance will not frighten Fury, Wilder, Joyce, Anderson, or the other heavyweight contenders.
All Rounds
Round 1
There's the bell! And Joshua immediately connects with a crisp jab. The Watford man's career-high weight cuts an intimidating presence that's dwarfing his much-smaller American foe, but AJ does look somewhat tentative and tense as this mostly feeling-out round progresses. Joshua continues to score sparingly with the jab behind a tight guard, but any thoughts that Joshua would come out guns blazing have been swiftly dismissed.
Round 2
Franklin lands an overhand right and Joshua cracks back with a vicious counter. Franklin lands another right hand and Joshua is bleeding heavily from his nose. Joshua lands a big straight right, the best punch of the fight so far. Both men landed solid shots but nothing of major consequence. Joshua just nicks the round on our card, but still looking worryingly stiff while Franklin keeps moving confidently forward. AJ has landed 19 of 65 punches so far (including 11 of 44 jabs), according to Compubox's punch statistics, compared to nine of 53 for Franklin.
Round 3
Franklin walks right into a right hand, but keeps moving forward undeterred. Joshua has been more active and keeps landing shots, but the American has made a habit of immediately throwing back. Franklin lands a good inside left hand to the body. Joshua lands a big shot right at the bell, but Franklin walks back to his corner smiling. Another close round but Franklin has done just enough to edge it against Joshua, who looked no more comfortable in the third round than in the previous two.
Round 4
Joshua enjoys his best round of the fight so far by loosening up and keeping his opponent at distance. He keeps working that powerful jab from the outside, landing it almost at will and swelling Franklin's right eye. There's an explosive exchange along the ropes near the end of the round, but Joshua emerges unscathed.
Round 5
Better from Joshua, who lands a stinging right over the top in the early stages and is starting to let that right hand go more. Franklin has taken AJ's singular offerings well so far and it's clearly going to require a sustained attack to get him out of there. Joshua's jab wins him another uncontroversial round. Opening up the combination punching could close the show before long.
Round 6
Franklin's movement has waned over the past couple of rounds, presenting Joshua with a more stationary target. A dangerous game. The Michigan man is struggling more and more to close the distance, paying a cost whenever he tries to slip inside. A valiant effort by the American but another clear round for Joshua, whose jab is winning the day.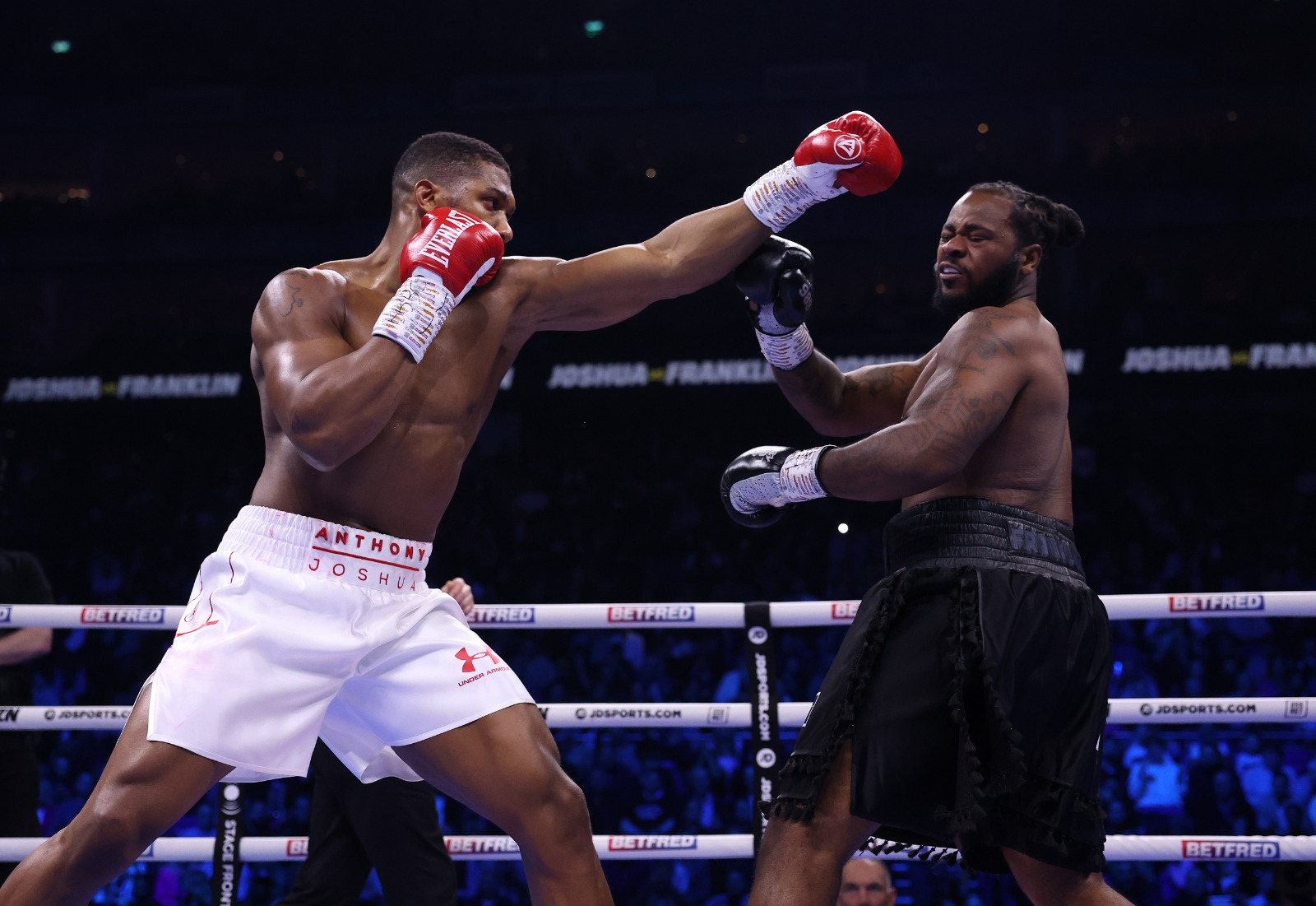 Round 7
More of the same from Joshua, who is winning comfortably behind the jab against an opponent hand-picked to make him look good, but hardly putting fear into the fighters at or near the top of the heavyweight division today.
Round 8
Joshua is in total control here, pecking away with the jab and using his 20lb weight advantage to grab and hold and lean on Franklin. Does the American have a fight-changing punch left in him?
Round 9
Joshua's jab has lost his sting. He's pawing with it, perhaps waiting for Franklin to walk into a right hand. The round follows what's become a familiar pattern for two and a half minutes with Joshua boxing effectively until Franklin lands a huge right hand near the end of the round that rocks the Briton and moves him backward. A big moment but the American can't follow up on it and it's not enough to undo Joshua's previous work.
Round 10
Some genuine two-way action, finally, as the fighters come together for a series of explosive exchanges from bell to bell … with Joshua getting the better of them. Franklin does well to stay upright after eating a bounty of Joshua hooks and uppercuts that land flush.
Round 11
Joshua hurts Franklin with a body shot. Franklin is hurt! He's grabbing and holding onto his British foe. Can Joshua finish the job? Franklin lands a sharp counter right. He looked badly hurt moments ago but has found his footing, but he keeps absorbing Joshua blows. Clearly, he will need a knockout in the 12th.
Round 12
Joshua appears to have Franklin hurt with about a minute to go, but Franklin makes it to the final bell. He's gone the distance with a former two-time world champion. There's a bit of a scuffle after the bell – more action than we saw for long stretches of this bout – with both fighters being restrained by their trainers. We're waiting on the official scorecards. It will surely be a unanimous-decision win for Anthony Joshua, but hardly the statement win that he so desperately needed.
Sean Strickland defeats Israel Adesanya to become new middleweight champion
Sean Strickland defeated Israel Adesanya to become the new UFC middleweight champion at the Qudos Bank Arena in Sydney, Australia.
The American secured the victory with a unanimous decision from all three judges, with scores of 49-46 in his favor.
Despite a first-round knockdown by Strickland, the fight went the full five rounds, with Strickland's nonstop pressure and upright boxing proving effective.
This loss marks Adesanya's third in his career, bringing his record to 24-3, while Strickland improved to 28-5.
Oleksandr Usyk secures knocks out victory over Daniel Dubois in ninth round
In a dramatic night of heavyweight boxing, British fighter Daniel Dubois expressed feeling "cheated out of victory" after his world-title challenge against Ukrainian Oleksandr Usyk. The event took place in Poland, with a lively crowd of 40,000 spectators.
Dubois, who was considered a significant underdog, managed to knock down the champion in the fifth round, but controversy arose when the referee ruled the shot as a low blow, despite it seemingly landing on the belt line. This decision shifted the course of the match.
Despite this setback, Usyk, aged 36, regained control and managed to drop Dubois with a series of shots in the eighth round at Tarczynski Arena, Wroclaw. The referee eventually stopped the contest after another knockdown in the ninth round, securing victory for Usyk.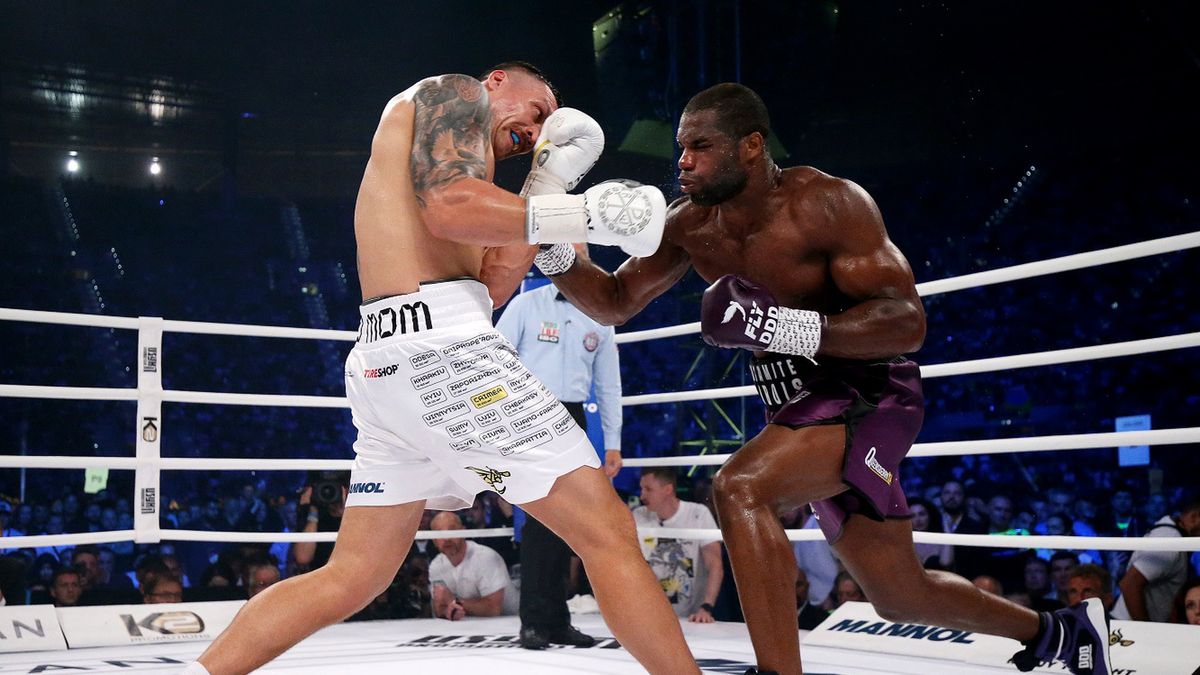 "I didn't think that was a low blow, I thought it landed," Dubois said after the fight.
Frank Warren, the promoter for Daniel Dubois, concurred with Dubois' sentiment, labeling the referee's decision as a "complete home decision." He criticized referee Luis Pabon for his role in the controversial outcome and indicated his intention to appeal the decision.
"I like Usyk, but he was not fit to go on and they gave him a couple of minutes to recover," added Warren.
Oleksandr Usyk took three minutes and 45 seconds to signal that he was ready to continue after being hit with a low blow – fighters are granted up to five minutes when struck with such a blow. Notably, referee Luis Pabon did not deduct a point from Daniel Dubois for the incident.
Following this setback, the former undisputed cruiserweight champion rebounded effectively towards the conclusion of the fifth round. He further reasserted his control during the seventh and eighth rounds, securing a successful second defense of his WBA 'Super', IBF, and WBO belts.
Usyk also maintained his unbeaten record, securing his 21st professional victory. This triumph keeps alive the prospect of an anticipated clash with Tyson Fury, preserving the potential for a high-profile showdown.
"I'm ready to fight Tyson Fury," Usyk said.
"I feel good. I am grateful for my team, my family, my children. I love you. I'm grateful for my country and the Ukrainian army. Thank you so much."
Anthony Joshua lands brutal KNOCKOUT over Robert Helenius (VIDEO)
Anthony Joshua, the former unified world heavyweight champion, delivered a seventh-round knockout victory against Robert Helenius in a thrilling match at London's O2 Arena.
Promoter Eddie Hearn revealed that the planned bout between Joshua and Deontay Wilder is set for January in Saudi Arabia, expressing confidence that all parties are prepared to sign the contracts.
Joshua expressed gratitude to Robert Helenius for stepping into the fight on short notice. He shared his aspiration to fight twice more within the year, aiming to regain his position at the summit of the heavyweight division.
Round caps
Round one commences with Helenius taking an offensive approach, while Joshua responds with a well-placed straight right to test his opponent's reflexes. The initial round revolves around both fighters gauging each other's distance, assessing defensive strategies, and collecting range information.
The second round remains tightly contested, with a notable moment being Joshua's successful connection of an overhand right with a minute left. Although it doesn't hurt Helenius significantly, it demonstrates Joshua's ability to breach his defense.
In the third round, both fighters continue their cautious defensive postures. The crowd's impatience becomes evident, as they express dissatisfaction with the lack of action. AJ slightly intensifies his aggression, attempting more probing shots, but both boxers remain cautious due to the threat of counter punches.
Joshua enters the fourth round with increased aggression, only to be caught by a counter right. He quickly regains his defensive stance and continues with probing shots. Later in the round, he manages to land a solid right hand on Helenius.
Despite the crowd's sentiments, the fight unfolds as a physically demanding contest. Swelling appears on Joshua's right eye, while Helenius suffers a nosebleed. The fifth round sees both fighters exchanging stiff jabs, with AJ's punches landing more effectively. The round ends with Joshua connecting a powerful left hook on Helenius.
As the sixth round begins, Joshua seems to have established his range, landing impactful shots and evading counterattacks. Helenius pushes forward, but his punches mostly meet Joshua's gloves. Towards the round's end, Joshua's powerful right hand forces Helenius to hold on.
Round seven starts with both boxers trading jabs, yet neither gains a clear advantage. However, around the one-minute-forty-second mark, Joshua lands a colossal right hand squarely on Helenius's chin, resulting in an immediate knockout. The referee opts not to count and stops the fight immediately. Medical staff rush in to attend to Helenius's well-being, ensuring his safety after the knockout.