BREAKING: Leon Edwards beats Usman Kamaru to retains UFC welterweight title
At UFC 286, Leon Edwards defeated Kamaru Usman once more and defended his welterweight title after surviving a point deduction.
At the O2 Arena in London on Saturday night, "Rocky" defeated Usman after five rounds with a majority decision [48-46, 48-46, 47-47].
It's understandable that the first round was tentative, but the UFC 286 fans who were there had a good time and chanted loudly for Edwards for the first five minutes.
In an otherwise uneventful UFC pay-per-view round, he caught the attention of the crowd with a series of powerful body kicks and his well-known catchphrase, "Headshot, dead."
In round two, both men had their moments, but Edwards continued to impress UK fight fans with his skilled striking.
However, Usman enjoyed one of the most impressive UFC welterweight title runs of all time by landing big shots of his own and even having some success wrestling.
In round three, "The Nigerian Nightmare" got the champion down early but was unable to keep him there.
Before allowing the fight to continue, the referee, Herb Dean, controversially deducted one point from the Englishman because he believed Edwards got back to his feet by illegally grabbing the fence.
While Usman kept Edwards busy with his jab and constant grappling threat, Edwards was successful with his strikes and defended well against takedowns.
At the beginning of round five, the champion poured it on and even landed a head kick that was similar to the one he used to knock out Usman in their fight at UFC 278 in August.
Sean Strickland defeats Israel Adesanya to become new middleweight champion
Sean Strickland defeated Israel Adesanya to become the new UFC middleweight champion at the Qudos Bank Arena in Sydney, Australia.
The American secured the victory with a unanimous decision from all three judges, with scores of 49-46 in his favor.
Despite a first-round knockdown by Strickland, the fight went the full five rounds, with Strickland's nonstop pressure and upright boxing proving effective.
This loss marks Adesanya's third in his career, bringing his record to 24-3, while Strickland improved to 28-5.
Oleksandr Usyk secures knocks out victory over Daniel Dubois in ninth round
In a dramatic night of heavyweight boxing, British fighter Daniel Dubois expressed feeling "cheated out of victory" after his world-title challenge against Ukrainian Oleksandr Usyk. The event took place in Poland, with a lively crowd of 40,000 spectators.
Dubois, who was considered a significant underdog, managed to knock down the champion in the fifth round, but controversy arose when the referee ruled the shot as a low blow, despite it seemingly landing on the belt line. This decision shifted the course of the match.
Despite this setback, Usyk, aged 36, regained control and managed to drop Dubois with a series of shots in the eighth round at Tarczynski Arena, Wroclaw. The referee eventually stopped the contest after another knockdown in the ninth round, securing victory for Usyk.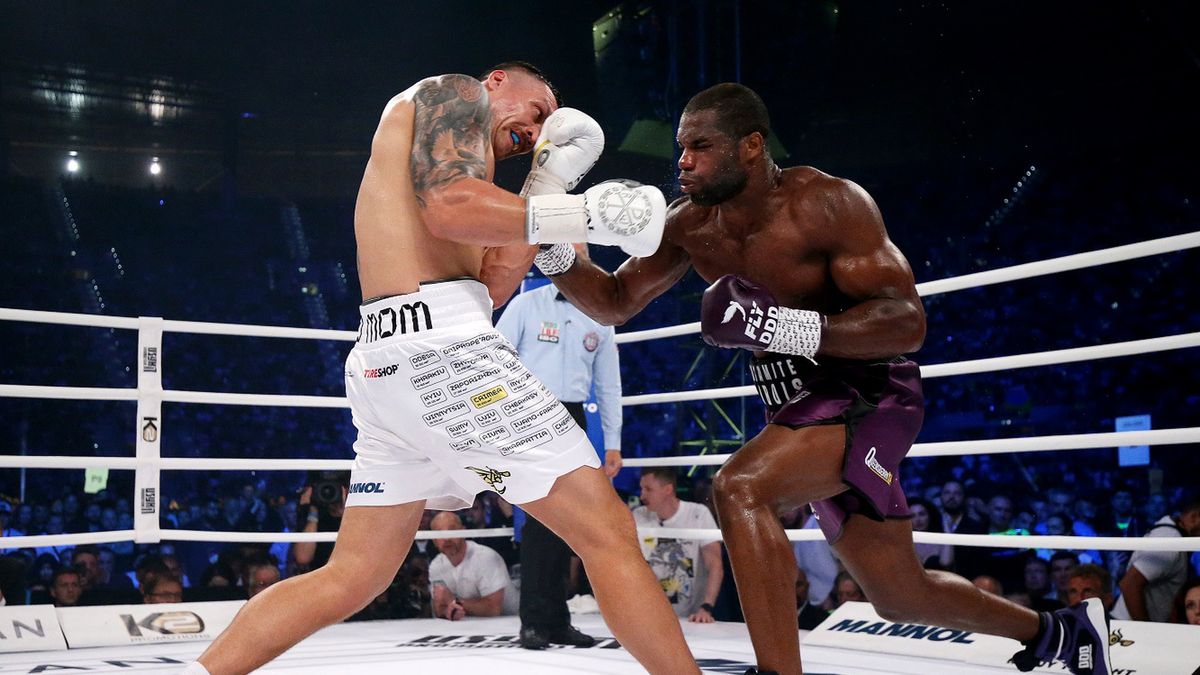 "I didn't think that was a low blow, I thought it landed," Dubois said after the fight.
Frank Warren, the promoter for Daniel Dubois, concurred with Dubois' sentiment, labeling the referee's decision as a "complete home decision." He criticized referee Luis Pabon for his role in the controversial outcome and indicated his intention to appeal the decision.
"I like Usyk, but he was not fit to go on and they gave him a couple of minutes to recover," added Warren.
Oleksandr Usyk took three minutes and 45 seconds to signal that he was ready to continue after being hit with a low blow – fighters are granted up to five minutes when struck with such a blow. Notably, referee Luis Pabon did not deduct a point from Daniel Dubois for the incident.
Following this setback, the former undisputed cruiserweight champion rebounded effectively towards the conclusion of the fifth round. He further reasserted his control during the seventh and eighth rounds, securing a successful second defense of his WBA 'Super', IBF, and WBO belts.
Usyk also maintained his unbeaten record, securing his 21st professional victory. This triumph keeps alive the prospect of an anticipated clash with Tyson Fury, preserving the potential for a high-profile showdown.
"I'm ready to fight Tyson Fury," Usyk said.
"I feel good. I am grateful for my team, my family, my children. I love you. I'm grateful for my country and the Ukrainian army. Thank you so much."
Anthony Joshua lands brutal KNOCKOUT over Robert Helenius (VIDEO)
Anthony Joshua, the former unified world heavyweight champion, delivered a seventh-round knockout victory against Robert Helenius in a thrilling match at London's O2 Arena.
Promoter Eddie Hearn revealed that the planned bout between Joshua and Deontay Wilder is set for January in Saudi Arabia, expressing confidence that all parties are prepared to sign the contracts.
Joshua expressed gratitude to Robert Helenius for stepping into the fight on short notice. He shared his aspiration to fight twice more within the year, aiming to regain his position at the summit of the heavyweight division.
Round caps
Round one commences with Helenius taking an offensive approach, while Joshua responds with a well-placed straight right to test his opponent's reflexes. The initial round revolves around both fighters gauging each other's distance, assessing defensive strategies, and collecting range information.
The second round remains tightly contested, with a notable moment being Joshua's successful connection of an overhand right with a minute left. Although it doesn't hurt Helenius significantly, it demonstrates Joshua's ability to breach his defense.
In the third round, both fighters continue their cautious defensive postures. The crowd's impatience becomes evident, as they express dissatisfaction with the lack of action. AJ slightly intensifies his aggression, attempting more probing shots, but both boxers remain cautious due to the threat of counter punches.
Joshua enters the fourth round with increased aggression, only to be caught by a counter right. He quickly regains his defensive stance and continues with probing shots. Later in the round, he manages to land a solid right hand on Helenius.
Despite the crowd's sentiments, the fight unfolds as a physically demanding contest. Swelling appears on Joshua's right eye, while Helenius suffers a nosebleed. The fifth round sees both fighters exchanging stiff jabs, with AJ's punches landing more effectively. The round ends with Joshua connecting a powerful left hook on Helenius.
As the sixth round begins, Joshua seems to have established his range, landing impactful shots and evading counterattacks. Helenius pushes forward, but his punches mostly meet Joshua's gloves. Towards the round's end, Joshua's powerful right hand forces Helenius to hold on.
Round seven starts with both boxers trading jabs, yet neither gains a clear advantage. However, around the one-minute-forty-second mark, Joshua lands a colossal right hand squarely on Helenius's chin, resulting in an immediate knockout. The referee opts not to count and stops the fight immediately. Medical staff rush in to attend to Helenius's well-being, ensuring his safety after the knockout.