Bundesliga is back: All you need to know about German Bundesliga
With nearly every major sports league across the world still on hiatus amid the coronavirus pandemic, the Bundesliga resumes this weekend following a two-month absence. Ahead of Saturday's return to the pitch, here's everything you need to know about German soccer's top flight.
Where and when to watch?
The season returns on Saturday, May 16 with a half-dozen matches broadcast by FOX Sports in the United States and Sportsnet in Canada. Both networks will also stream matches online.
Schedule for this weekend's games
| DATE | MATCH | TIME (ET) | TV |
| --- | --- | --- | --- |
| May 16 | Borussia Dortmund vs. Schalke | 9:30 a.m. | FS1 and Sportsnet |
| May 16 | RB Leipzig vs. Freiburg | 9:30 a.m. | FS2 and SN World |
| May 16 | Augsburg vs. Wolfsburg | 9:30 a.m. | Fox Soccer Plus and SN1 |
| May 16 | Hoffenheim vs. Hertha Berlin | 9:30 a.m. | Fox Soccer Match Pass and SN World Plus |
| May 16 | Fortuna Dusseldorf vs. Paderborn | 9:30 a.m. | Fox Soccer Match Pass and SN World Plus |
| May 16 | Eintracht Frankfurt vs. Monchengladbach | 12:30 p.m. | FS1 and Sportsnet |
| May 17 | FC Koln vs. Mainz | 9:30 a.m. | FS1 and Sportsnet |
| May 17 | Union Berlin vs. Bayern Munich | 12:00 p.m. | FS1 and Sportsnet |
| May 18 | Werder Bremen vs. Bayer Leverkusen | 2:30 p.m. | FS2 and Sportsnet |
Borussia Dortmund's matchup with bitter foes Schalke is the standout fixture, as the clash represents one of the fiercest rivalries in European soccer.
Testing, quarantine, and other logistics
All eyes are on the Bundesliga, which, besides attracting fans desperate for sporting action, will also be a reference point for other major leagues looking to restart play amid the coronavirus pandemic.
The German Football League (DFL) has employed a task force to kick-start the resumption of the 2019-20 campaign. Matches will be played at empty stadiums and 25,000 tests will be used to check players, coaches, and first-team staff. Players are tested twice a week and before each match, and all first-team staff for the league's 18 clubs have been isolated as part of seven-day training camps leading up to Saturday's restart.
In the event of a positive coronavirus test for a player or staff member, a 14-day quarantine period will be imposed.
How is the season shaping up?
For 16 of the league's 18 sides, there are 11 matches left on the docket – Eintracht Frankfurt and Werder Bremen each have a match in hand. Plans are to have the domestic campaign completed by the end of July before European competitions resume in August.
When the season is completed, the top four teams qualify for the Champions League, while the fifth- and sixth-place sides book spots in next season's Europa League. A third Europa League berth is allocated to the winner of the German domestic cup, the DFB-Pokal.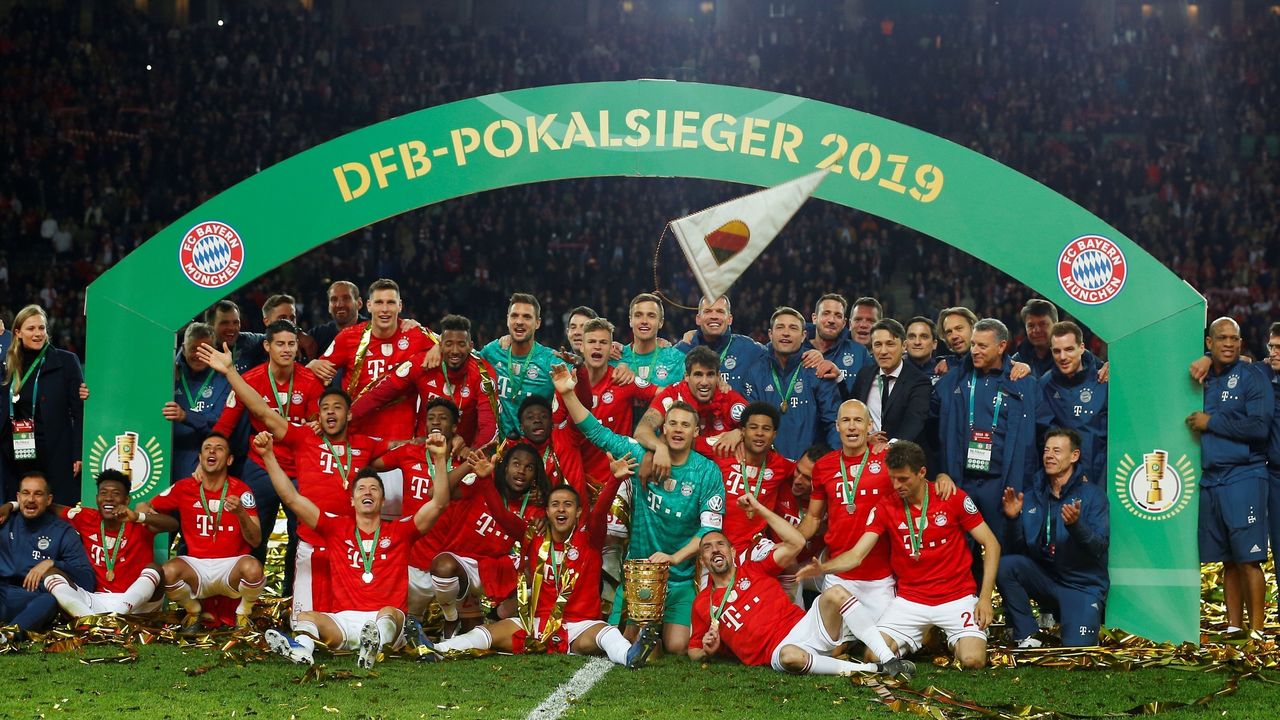 The bottom two sides are automatically relegated to the second tier, 2. Bundesliga, while the 16th-place team and the third-place team from the second division play a two-legged playoff at season's end to secure a position in the top flight.
Here's what the Bundesliga table has looked like since the league halted operations on March 13:
| # | Team | MP | W | D | L | F | A | G | P |
| --- | --- | --- | --- | --- | --- | --- | --- | --- | --- |
| 1 | Bayern Munich | 34 | 26 | 4 | 4 | 100 | 32 | +68 | 82 |
| 2 | Borussia Dortmund | 34 | 21 | 6 | 7 | 84 | 41 | +43 | 69 |
| 3 | RB Leipzig | 34 | 18 | 12 | 4 | 81 | 37 | +44 | 66 |
| 4 | Borussia Mönchengladbach | 34 | 20 | 5 | 9 | 66 | 40 | +26 | 65 |
| 5 | Bayer 04 Leverkusen | 34 | 19 | 6 | 9 | 61 | 44 | +17 | 63 |
| 6 | TSG 1899 Hoffenheim | 34 | 15 | 7 | 12 | 53 | 53 | +0 | 52 |
| 7 | Wolfsburg | 34 | 13 | 10 | 11 | 48 | 46 | +2 | 49 |
| 8 | SC Freiburg | 34 | 13 | 9 | 12 | 48 | 47 | +1 | 48 |
| 9 | Eintracht Frankfurt | 34 | 13 | 6 | 15 | 59 | 60 | -1 | 45 |
| 10 | Hertha BSC | 34 | 11 | 8 | 15 | 48 | 59 | -11 | 41 |
| 11 | Union Berlin | 34 | 12 | 5 | 17 | 41 | 58 | -17 | 41 |
| 12 | Schalke 04 | 34 | 9 | 12 | 13 | 38 | 58 | -20 | 39 |
| 13 | 1. FSV Mainz 05 | 34 | 11 | 4 | 19 | 44 | 65 | -21 | 37 |
| 14 | 1. FC Köln | 34 | 10 | 6 | 18 | 51 | 69 | -18 | 36 |
| 15 | Augsburg 1907 | 34 | 9 | 9 | 16 | 45 | 63 | -18 | 36 |
| 16 | Werder Bremen | 34 | 8 | 7 | 19 | 42 | 69 | -27 | 31 |
| 17 | Fortuna Dusseldorf | 34 | 6 | 12 | 16 | 36 | 67 | -31 | 30 |
| 18 | Paderborn | 34 | 4 | 8 | 22 | 37 | 74 | -37 | 20 |