Emi Martinez's best moments of penalty sh*thousery
Aston Villa goalkeeper Emi Martinez is a force of nature.
He has just 26 caps for Argentina but in that time Martinez has won both the Copa America and now the World Cup, along with the Golden Glove award for best goalkeeper during both tournaments.
Not only that but he's done so in style. And that style is this: becoming the most horrible man in the entire world for the opposition, especially during penalty shootouts. Like, genuinely despicable. A man who would debag the Pope if he thought it would give him an advantage. A man who would punt a baby harp seal into orbit without a second thought.
A man who would steal your parking space, microwave a fish-based lunch in the office and then stand directly in front of you at a gig, all on the same day, just because he could.
In short, Martinez is a sh*thouse. He's also really good at it. Maybe the best. Let's celebrate that, shall we, more than anything else following the 2022 World Cup. Sure, Lionel Messi is now the de facto greatest player of all time. But we knew that already.
What we didn't know is just how far Martinez could take his antics. We do now. All the way to a World Cup final, to pretending his individual trophy was a phallus in front of a rather stern-looking Qatari official and consequently, to immortality.
Here's a countdown of his 10 best moments of penalty shootout sh*thousery. You're welcome.
Martinez jumped so high the photographer cut his head off / Marvin Ibo Guengoer – GES Sportfoto/GettyImages
It might not seem like a moment of sh*thousery but let me assure you it was. It was downright mean. After saving Kingsley Coman's penalty for France in the shootout, Martinez made sure to run over to the distraught player specifically to leap into the air and fist bump repeatedly in his near vicinity.
You just know that Coman saw him out of the corner of his eye. Was there any need? No, not really. But that makes it even funnier. He'd already missed. This really added nothing other than rubbing it in further.
And before you get all high and mighty on me, Coman has 26 trophies to his name so far in his career. He'll live.
Still, even this pales in comparison to what is to come.
Not technically during the penalty shootout but in the immediate aftermath of their win over the Netherlands in the quarter-final, Martinez saying that van Gaal "needs to keep his mouth shut" and delivering it, well, like this, is outstanding. What a line read.
Bonus points for calling the referee useless as well. Martinez takes no prisoners. Imagine if he'd lost!
Did the shirt really need to come off, Emi? / Visionhaus/GettyImages
That was not all Martinez had to say to van Gaal, either. A legendary manager about to retire from football might be an opportunity for most players to shake his hand and congratulate him on a wonderful career.
Unless you're Emi Martinez, who took the opportunity to walk past the Dutch bench, topless, pointing and gesturing in van Gaal's direction and reportedly shouting: "I f*cked you twice, puto de mierda".
Van Gaal, to his credit, looked back at him nonplussed until Martinez was eventually ushered away by his coaching staff.
Is swearing at a 71-year-old man big? No. Is it clever? No. Is it funny given the circumstances? That this is van Gaal's last game as a manager, his final moments on the sideline after 50 years in football?
Yes, actually. Yes, it is.
Martinez caused chaos in the build-up to the penalty / Gareth Copley/GettyImages
Time for a brief sojourn in the Premier League now, only to revisit Bruno Fernandes' penalty miss from last season. Trailing 1-0 to Aston Villa at Old Trafford, Manchester United were given a lifeline when Mike Dean awarded them a penalty for handball in the first minute of added time.
Fernandes stepped up to take the penalty but not without Martinez accosting him at the spot and shouting to his teammate, Cristiano Ronaldo, who was standing near the edge of the box, to take it instead. Over and over again. For a solid minute. Insisting that Ronaldo should take it right in front of Fernandes' face.
So simple. So effective. So efficient. Martinez wound up both players and caused Fernandes to sky the penalty over the bar, all without really doing anything. A masterclass in sh*thousery. Just textbook rattling.
We'll get to what he did afterwards later.
Love the subtlety of this one. The way he picks up the ball. The way he looks at the ref. The way he holds it out. The eye contact. The little nod, as if to say "here you go, mate." The timing to then casually toss it to the side as Steven Berguis is about to reach him. The fact that the ball doesn't go very far at all and this is a very, very minor inconvenience. The backwards walk to his goalline. The continued stare down.
The whole thing is *chef's kiss*.
There was no way Berghuis was scoring his penalty after this. He did well to even get it on target, to even connect with the ball. He might as well have just instantly curled up into the foetal position and started sucking his thumb, such was the psychological torture.
I've watched this clip a thousand times and I will watch it a thousand times more. Put up a giant projector screen in the Louvre and play it on repeat. Forever. Show it to the first alien life that makes contact. This…this is human culture. This is the very best of us. This is what we are capable of.
Martinez doing his best impression of Will from The Inbetweeners / Jean Catuffe/GettyImages
Obviously, Martinez guessed right, dived to his left and saved the shot. He then jumped up quicker than you can say the word "sh*thouse" to do this kind of gleeful little jig, trotting and bouncing from side to side and pumping his arms.
It wouldn't have looked out of place on a wedding dance floor past midnight. Nobody has ever moved their limbs in this manner and combination before. Of that I'm convinced. He's literally just invented a ridiculous tribal dance on the spot. Instantaneously. And therein lies its eternal beauty. This is a cave drawing come to life.
Another penalty save, another iconic dance / ODD ANDERSEN/GettyImages
This one was all in the shoulders. Eyes like a serial killer. Shoulder rolls like John Travolta. Just a strut, a shimmy and the lasting image of a man having an absolute blast… behaving like Tony Adams on Strictly in a World Cup final penalty shootout.
This should be an extremely stressful situation. Hugo Lloris, by comparison, looked like he might vomit up his breakfast at any point. Martinez, though, he's built differently. He was born in the sh*thousery. Moulded by it. He didn't see the Argentina squad until he was already a man.
And do not fear, footage of this is coming up.
Maybe the first time Martinez properly got to show off his unparalleled capacity to irritate: the Copa America semi-finals in 2021, against Colombia.
Maybe the first time Martinez properly got to show off his unparalleled capacity to irritate: the Copa America semi-finals in 2021, against Colombia.
Up steps Davinson Sanchez. "I'm going to eat you up, brother." Penalty saved. Up steps Yerry Mina. A verbal onslaught. "You're nervous, huh? …I'm going to eat you up, brother." Penalty saved. Quick, massive pelvic thrust to celebrate.
Up steps Miguel Borja. Martinez is told off by the ref for calling him a rude word. Scores. Sh*thouses Martinez back with his celebration. Fair play. You've got to be able to take it as well.
Up steps Edwin Cardona, who must score. No chance. Penalty saved.
Imagine…just imagine telling two players in a row you are going to eat them up. And then doing it. It's one thing to talk trash, it's another to back it up. You can't just go saying things like that before someone takes their penalty. If they score you look ridiculous. Martinez doesn't mind looking ridiculous.
In fact, that's his preferred aesthetic. See also: holding the Golden Glove trophy as though it was his penis in front of the ENTIRE WORLD.
Martinez did just swallow their efforts. He consumed them whole. Mentally. Physically. Emotionally. A blue whale, to him they were nothing more than krill.
Whereas Martinez's disruption of Berghuis was all in the minutiae of the interaction, this is the polar opposite. It's just a man unapologetically chucking the ball away from his opponent. Just blatantly doing a not-very-nice thing in front of the referee. Who, in turn, can't really do anything to stop him. Other than, you know, say "stop doing that".
Tchouameni's reaction, which was to throw his arms up in the air before immediately trudging over to fetch the ball, is the moment France lost the World Cup. He was always going to miss after that. Haven't seen France surrender to outside forces of evil like that since 1940.
And do you know what? Martinez was going the right way regardless. He was saving this one even if Tchouameni did hit it inside the post. The dance is the cherry on top but childishly rolling the ball away is where all the actual damage is done.
Tchouameni, otherwise one of the players of the tournament, may genuinely never recover.
This is it, for me. The finest bit of penalty sh*thousing Emi Martinez has ever done. The crème de la crème of completely unnecessary, unwarranted b*stardry.
Not only has he gotten into Cristiano Ronaldo's head. Not only has he got into Bruno Fernandes' head. Not only has he Jedi mind-tricked a very good penalty taker into inexplicably smashing his spot-kick over the bar.
He takes the time to do this. To turn to all the United supporters behind him who have probably been giving him pelters all game, and just dance at them. Just wiggle his hips a bit. In their general direction. Honestly, you'd rather someone spit in your face.
You can watch a better clip of the dance here.
It's one thing to do it to the camera or to the opposition, it's a whole other to turn and face a section of home supporters and quietly vibe at them. Imagine how angry they were. Imagine how much they were swearing at him. Wanting to throw objects. Wanting to leave death threats on his Instagram. Just pure losing their minds.
Is it funnier because it's against Manchester United, and this was their first defeat of the season, and it started the run of one win in seven games that ultimately got Ole Gunnar Solskjaer sacked?
Yes. Infinitely.
But it's also how silly it is, how inconsequential, how his first thought after such a dramatic moment in a football match was to turn round and wind people up, just because he could. Just because the opportunity was there.
There are, of course, those who don't like Martinez's behaviour, who will call it arrogant or poor sportsmanship.
To them, all I can say is the following: *stares directly down the lens, silently Cha-Chas towards the camera for four to six seconds*.
Europa League final 2023 tickets: Prices for Budapest decider & where to buy
Tottenham director Fabio Paratici banned from football worldwide by FIFA
Tottenham managing director of football Fabio Paratici has been banned from football worldwide after FIFA extended the punishment imposed in Italy following his involvement in Juventus' penalised accounting practices.
In January, the Italian giants suffered a shock 15-point deduction after the club was deemed to have inflated player transfer values in swap deals among other financial offences.
Paratici joined the Juventus hierarchy in 2010 and was the club's sporting director between November 2018 and the summer of 2021, before he took up a similar role at Tottenham. The investigation into Juve's accounts scrutinised transactions between 2019 and 2021 – when Paratici was at the heart of the club's dealings.
At the start of the year, Paratici was one of several former Juventus board members that were banned from football following the conclusion of the investigation by the Italian Football Federation. Initially, Paratici was handed a 30-month ban from just Italian football, although the threat of extending the scope of that punishment internationally always loomed.
On Wednesday, FIFA released a statement confirming that they had indeed taken up that option, extending the ban handed out to Paratici and the other Juventus board members – including former owner Andrea Agnelli – worldwide.
READ NEXT
The statement read: "FIFA can confirm that following a request by the Italian FA (FIGC), the chairperson of FIFA disciplinary committee has decided to extend the sanctions imposed by FIGC on several football officials to have worldwide effect."
Paratici was due to be in court this week for a a preliminary committal hearing regarding a portion of the charges levelled at Juve, but the date for those proceedings have been shunted back to 10 May. Juve appealed their 15-point penalty – which the prosecution only recommended as a nine-point punishment – and will hear the ruling of which on 19 April.
LISTEN NOW
On this edition of Talking Transfers, part of the 90min podcast network, Scott Saunders, Graeme Bailey & Toby Cudworth discuss Julian Nagelsmann's future and links to the vacant Tottenham head coach role, Barcelona's ambition to bring Lionel Messi 'home', Brighton teenager Evan Ferguson, Florian Wirtz, Kalvin Phillips and more!
If you can't see this embed, click here to listen to the podcast!
Sir Alex Ferguson & Arsene Wenger inducted into Premier League Hall of Fame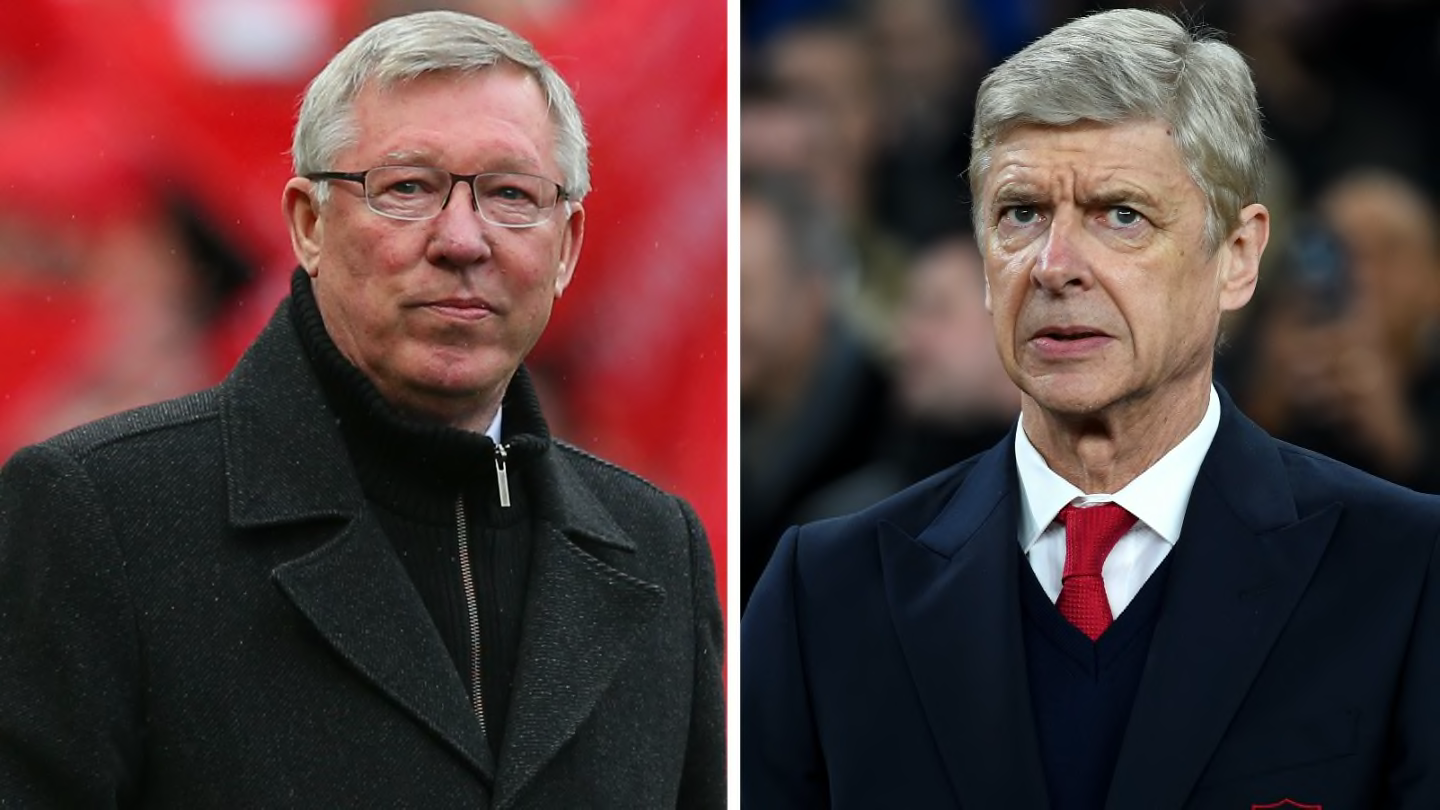 Sir Alex Ferguson and Arsene Wenger have become the first managers to be inducted into the Premier League Hall of Fame.
The duo won 16 Premier League titles between them across respective long-term spells with Manchester United and Arsenal.
With 13 of those championships, Ferguson is the most decorated manager in the history of the competition. He is the only coach to have won the Premier League three times in a row, doing so on two different occasions.
Ferguson said: "I'm truly delighted to be inducted into the Premier League Hall of Fame. It's an honour when you receive recognition like this. However, it's not just about me as a person. It's about the job at Manchester United and the bond we had over many years, so I'm also proud for the club, the staff and my players.
"My job was to send the fans home happy. United's history and my own expectations were the things that drove me, and I then had to try and develop all my players with the same expectations and make sure we could go out and achieve them.
"I feel Arsene is a very worthy inductee as he transformed Arsenal Football Club fantastically. They became a tough team to compete with and we both wanted to win, which motivated us further. Through the years since retirement, we'd go for dinner together in a little restaurant he knows well in Switzerland. He is a really interesting man and I enjoy his company, but it is still my job to pick the wine!"
READ NEXT
Wenger arrived in England in 1996 as one of the Premier League's first foreign coaches, and quickly proved sceptics wrong, transforming Arsenal into title winners and changing English football's culture with his scouting and dietary expertise.
The Frenchman won three Premier League titles with Arsenal, including an unbeaten 'Invincibles' season in 2003/04.
Wenger said: "I am very grateful to have been selected for the Premier League Hall of Fame. We always wanted to give something special to the fans and when you have players capable of remarkable things, the most important thing for me is the obligation of perfection.
"I'd like to be known as someone who loved Arsenal, who respected the values of the club and left it in a position where it can grow and become even bigger.
"To share this with Sir Alex is a great honour for me. It's like two boxers, you fight like mad and go the distance together. At the end of the day, you have respect and it will be a great opportunity to meet with him, share a good bottle of wine and memories of our old battles."
In addition to Ferguson and Wenger, there are 16 other inductees in the Premier League Hall of Fame.
Alan Shearer and Thierry Henry were the first two people inducted when the Hall of Fame was created in 2021. They were followed later that year by Eric Cantona, Roy Keane, Frank Lampard, Dennis Bergkamp, Steven Gerrard and David Beckham.
In 2022, Wayne Rooney, Patrick Vieira, Sergio Aguero, Didier Drogba, Vincent Kompany, Peter Schmeichel, Paul Scholes and Ian Wright were inducted.