Allegations of racist abuse from a section of the home crowd marred England's thumping win over Hungary in Budapest on Thursday night.
Monkey chants were reportedly aimed at Raheem Sterling and Jude Bellingham in the second half of the 2022 World Cup qualifier at the Puskas Arena.
England's players were also booed as they took the knee ahead of kick-off in the Group I clash, while a flare was thrown onto the pitch and fans hurled cups and other debris at celebrating England stars on an ugly night in the Hungarian capital.
Hungary have already been hit with a three-game stadium ban – with the third match suspended – by Uefa this summer following discriminatory behaviour by fans at Euro 2020 and further investigations by Fifa will surely now follow.
Harry Maguire was asked about those alleged racist chants by BBC Radio 5 Live…
"I have spoken to a couple of lads, I did not hear them myself and if it did happen then I am disappointed. Three, four of us did not hear them but you guys can hear them more clearly on TV."
On Hungary fans booing the England players taking a knee, he said: "It was disappointing to hear the boos but it has happened in previous games, we knew what to expect but I am happy all the boys stood by it."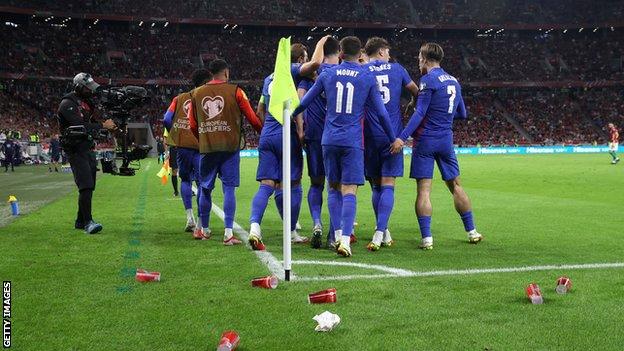 John Stones' reaction to that alleged racist chanting from a section of the Hungary crowd…
"I personally didn't hear it, I've been told about it after. It is so sad to think that this happens at our games and I hope UEFA and whoever needs to take care of it does and I'm sure they will," he said.
"We stand together as a team and we will continue fighting for what we believe in as as team and what we believe is right.I think we definitely have the mindset of 'let the football do the talking' and tonight we did that.
"We celebrated our goals as if it is the last one we will score at that is an incredible thing to have as a team and as players.
"We live the game and are so passionate for the shirt and how we conduct ourselves on the pitch. It is our passion, let our football do the talking and that showed tonight."
A message of support from Manchester City towards their player Sterling and his England team-mates.
"No one should have to accept what England's footballers have endured this evening," they tweeted.
"It's totally unacceptable. Discrimination has no place in football. We are with you."
Southgate reaction
"Everybody knows what we stand for as a team and that is completely unacceptable. Everything is being reported and we have to see what happens from there.
"That's for other people to deal with. There is no more that this group of players and all the staff could do in the fight against racism. We are trying to uphold our part of it and other people have got to take the right action to make progress.
"I don't think our players can do anything more than they have done over the last two or three years in trying to get the right messages out, take the right stands and it is for other people to protect them. It is for me to protect them in the main, but for the authorities to protect them as well. They shouldn't have to be subjected to any form of racism."
Advertisement