Lucas Vazquez explains Real Madrid's lack of goals after Betis draw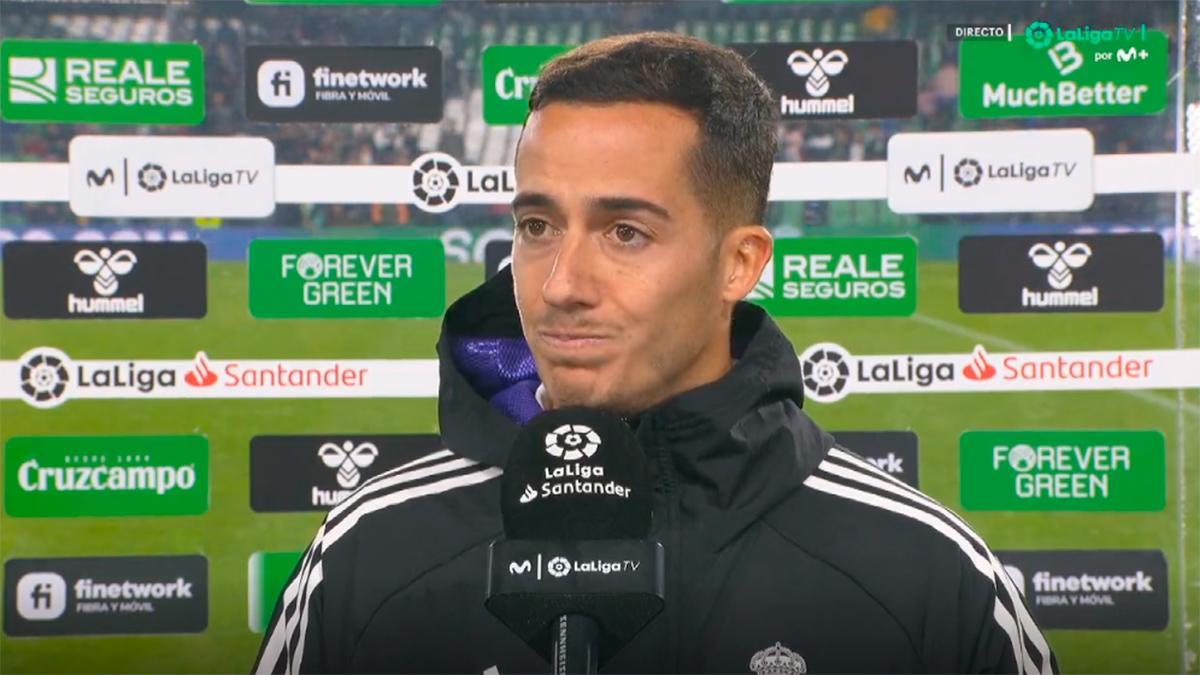 Lucas Vazquez made the following statement after the 0-0 draw with Real Betis: "We're not happy with the draw. The team has done well to get something out of here. We lacked success in the final third. We are not happy with the tie.
"We are in March. It's complicated, but we're going to fight until the end because we believe we can turn it around.
"We want the fans to trust us. We are going to fight for the three competitions because they are still open and we will go to the death for everything."
After the World Cup, Real Madrid has only scored 10 league goals in 10 games, including penalties. They are currently nine points behind Barcelona.
Source: Madrid management | Tribuna
Roy Keane names two Man Utd players who could upset City's FA Cup victory
Roy Keane expressed his concern for Manchester United during an appearance on The FA Cup Special Overlap.
Keane mentioned that Manchester City has been dominant over their local rivals in recent years. However, he also acknowledged that United possesses players who have the ability to pose a threat to City's team.
Keane's remarks indicate that while he recognizes the challenges United faces, he believes they still have players capable of making an impact in matches against City.
Roy Keane said: "I am worried for Manchester United – Manchester City have dominated them for the past few years, but United have players like Bruno Fernandes and Marcus Rashford who can hurt City.
"Wembley, the atmosphere and the fact that United have been written off – it's dangerous."
He added: "People were writing United off against Brighton as if United couldn't cope against Brighton, who were doing well at the time, but they turned up – and they get over the line in the big games," added Keane.
"They are a bit better [than they were], but on paper, City are favourites – but that just might suit United."
In the 2022/2023 Premier League season, Manchester City defeated Manchester United 6-3 in their first meeting. The match was characterized by an intense attacking display from both teams, with City emerging as the winner. However, in the reverse fixture at Old Trafford, Manchester United managed to secure a 2-1 victory over Manchester City.
JUST IN: Everton launch stunning bid for Tammy Abraham
Everton's interest in bolstering their squad for the upcoming season has led them to set their sights on Roma striker, Tammy Abraham.
After successfully avoiding relegation to the Championship, the Toffees are determined to secure a stronger position in the Premier League going forward.
According to The Sun, Everton is keen on acquiring Abraham's move, as they believe his goal-scoring prowess can significantly improve their performance in the league next season.
In pursuit of this goal, the club is actively working towards finalizing a £27 million deal with Roma.
Financial struggles have put Roma in a position where they need to generate funds from player sales to invest in new signings.
Consequently, manager Jose Mourinho appears willing to part ways with Abraham, as recent media reports have suggested a potential loan move for Romelu Lukaku.
Official: Rafael Leao signs lucrative deal with AC Milan until 2028
In an exciting development, AC Milan's talented winger, Rafael Leao, has officially agreed to a fresh five-year contract extension, as confirmed by the club's official website.
Leao's exceptional performances on the field had attracted significant interest from several prominent clubs, including Chelsea, Arsenal, and Paris Saint-Germain. With his previous contract set to expire in 2024, speculation about his future intensified. However, the Portuguese forward has put all doubts to rest by committing his future to AC Milan.
In an official statement, the club expressed their delight, stating, "AC Milan is pleased to announce that Rafael Alexandre da Conceicao Leao has renewed his contract with the Club until 30 June 2028." This announcement serves as a testament to the club's confidence in Leao's abilities and his importance to their long-term plans.
Since joining AC Milan in the summer of 2019, Leao has showcased his exceptional talent through 162 appearances, netting an impressive 41 goals and providing 29 assists for the Rossoneri. Such remarkable performances earned him the title of Best Player in Serie A last season. With this contract extension, AC Milan and Rafael Leao are set to continue their successful journey together.
The renewal of Leao's contract signifies AC Milan's determination to secure their top talents and build a competitive team capable of challenging for honors. The Portuguese winger's combination of pace, skill, and goal-scoring ability has made him a valuable asset to the club's attacking prowess. With his commitment, AC Milan can look forward to his continued contributions in their pursuit of success.
The news of Leao's contract extension will undoubtedly bring joy to AC Milan fans, who can now look forward to witnessing the winger's electrifying performances for years to come. As the Rossoneri strive to regain their position at the pinnacle of Italian and European football, the retention of key players like Leao serves as a statement of intent from the club.