Paris Saint-Germain: Who is to blame?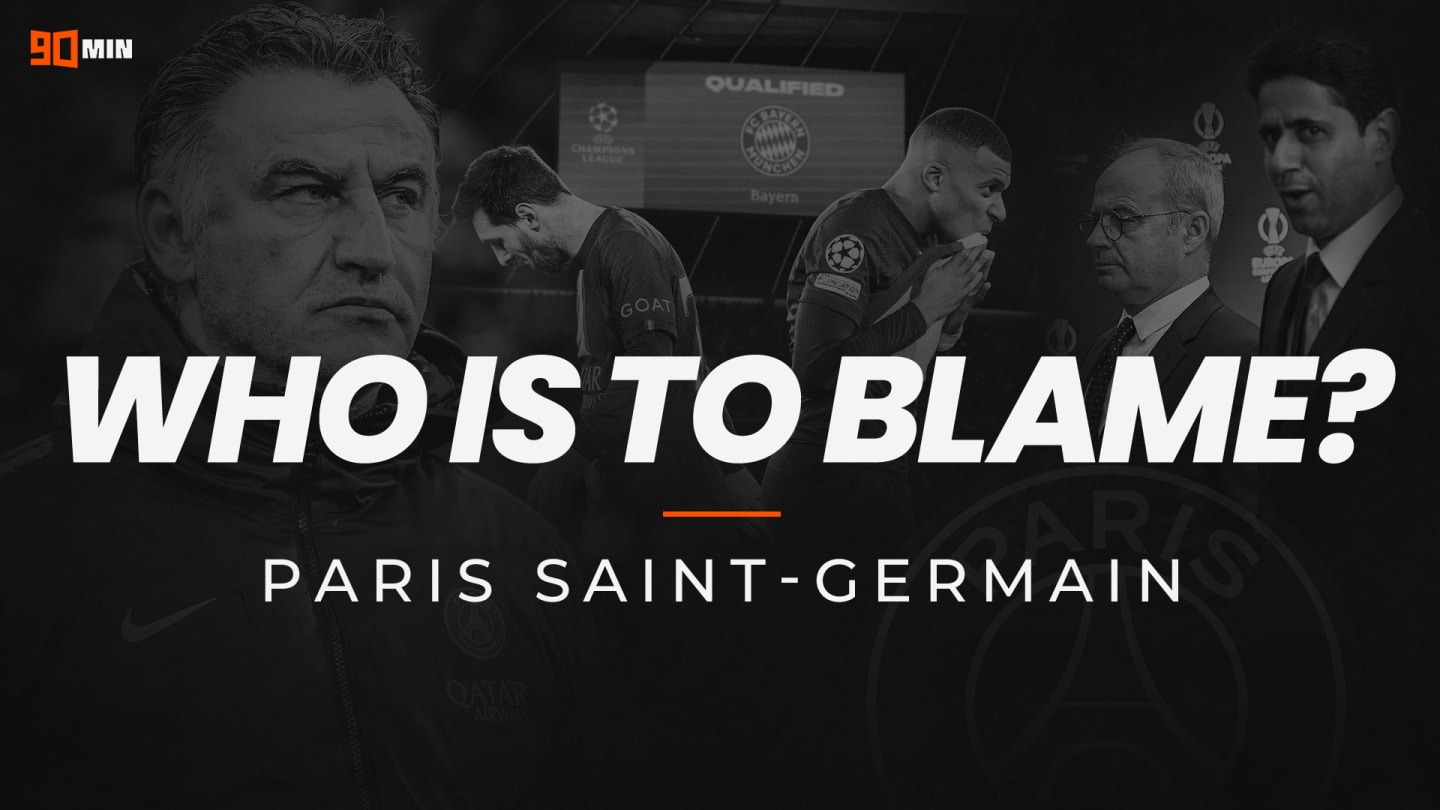 Well…this has been coming for a few seasons, hasn't it?
After once again managing to embarrass themselves in the UEFA Champions League, we at 90min HQ have decided that Paris Saint-Germain are finally 'Who is to Blame?' worthy.
Here's the 30 things, people, adverts, kits, etc. to blame to PSG's inability to conquer Europe.
Yes, Paris Saint-Germain are selling fly fishing equipment.
It's not neccesarily to blame for their Champions League exit, but we thought it was worth pointing out.
Blame rating: 0/10
'Welcome to flight number 4-3-3'.
Dear lord.
Blame rating: 0.433/10
A witch doctor? / Soccrates Images/GettyImages
So, here's a thing that exists.
Paul Pogba's brother, while being under investigation for blackmail and extortion, alleged that his superstar sibling hired a witch doctor to curse Kylian Mbappe ahead of Man Utd's 2019 clash with PSG.
Here's what Mathias said about it all: "The turning point came with the World Cup in 2018, where Paul had more faith in the witch doctor than in God, entrusting the witch with a big task in order to help the French team win.
"The witch doctor would go on to tell Mam's [an intermediary] that the job had already been done, and that was when Mam's would start to be scared. After that, Paul continued with his witch doctor, notably in the Champions League to ensure that Manchester United would go through against PSG.
"At the request of Paul, the witch was told to neutralise Kylian Mbappe, who back then was on a rapid rise, far outstripping Paul's fame. It was strange to see that during that match Kylian was a shadow of himself against a reserve side."
Blame rating: 1/10
It's just a bit odd.
Blame rating: 1.5/10
Champs / Sylvain Lefevre/GettyImages
The team that won Ligue 1 during one of Poch's seasons as manager.
LOSC Lille denied PSG the chance to break Lyon's record of winning seven consecutive league titles.
Ouch.
Blame rating: 2/10
The kit / FRANCK FIFE/GettyImages
Great Air Jordan kit guys. It's a pity you once conceded goals to Daniel Sturridge and James Milner in 2018 while wearing it.
Blame rating: 2.3/10
Verratti was chasing shadows / Quality Sport Images/GettyImages
Per WhoScored, Marco Verratti was dribbled past a UEFA Champions League record number of times during the second leg defeat to Bayern Munich.
Do more. Do something. Do anything, Verratti.
Blame rating: 2.7/10
Allowing a 19-year-old's goal celebration to live this rent free in their heads in 2020 was astonishingly odd.
Blame rating: 3/10
The goal / Etsuo Hara/GettyImages
The man who scored the winner in Barcelona's remarkable Remontada win over PSG at Camp Nou.
Blame rating: 3.61/10
The mastermind / Charlie Crowhurst/GettyImages
Manchester United were bad while Ole Gunnar Solskjaer was at the wheel. Full-on bad.
And yet, the manager was able to mastermind a dramatic comeback win over PSG in the Champions League thanks to a penalty in the final five minutes of a game at Parc des Princes.
Solskjaer is proof that it doesn't really matter who you are, you can still beat PSG in the Champions League.
Blame rating: 3.7/10
Benzema scored a hat trick / Anadolu Agency/GettyImages
The 2022 Ballon d'Or winner single-handedly dumped PSG out of the Champions League during their first season with Messi on the books.
Blame rating: 3.9/10
Didn't go to plan… / Jonathan Moscrop/GettyImages
Signed for a reported €60m after a successful season on loan at Parc des Princes, Icardi proved to a disaster during his time as a permanent PSG player.
Scoring just five goals during the 2021/22 season, he was in the headlines more for his dramatic relationship with Wanda Nara than his performances on a football pitch.
Blame rating: 4.4/10
A pretty bad PSG manager / John Berry/GettyImages
So just how bad was Mauricio Pochettino at PSG, you ask?
Well, let's just say that PSG didn't win Ligue 1 in one of the two seasons he was the manager.
Blame rating: 4.8/10
Gianluigi Donnarumma in action / Danilo Di Giovanni/GettyImages
There's no way Donnarumma should be as bad on the ball as he is.
There's no way a top European club can afford to have a goalkeeper this bad on the ball in their lineup in 2023.
He needs to improve on the ball or he'll never be the 'new Gianluigi Buffon' that's been touted to become.
Blame rating: 5/10
Presnel Kimpembe isn't good enough / Catherine Steenkeste/GettyImages
A fine Ligue 1 defender on his day, but PSG need to stop pretending that Kimpembe is capable of player for a Champions League-challenging football club. He's simply not good enough.
Blame rating: 5.2/10
Luis Campos probably talking about Renato Sanches / FRANCK FIFE/GettyImages
The man who signed Renato Sanches.
Need we say more?
Blame rating: 5.8/10
The three in action / Xavier Laine/GettyImages
Three incredible footballers. There's no doubt about that.
What there is doubt about, however, is having three attacking players who don't track back in one starting lineup. It doesn't work. It hasn't worked. It will never work.
Blame rating: 6/10
Christophe Galtier is certain to get sacked / Jean Catuffe/GettyImages
He just hasn't managed to work the tactical conundrum out at PSG.
Granted, it is difficult due to how bloated the squad he's been given is, but there's no way a team with Mbappe and Messi in it should be as boring as this Paris Saint-Germain currently are.
It shouldn't be possible, and yet it is Galtier.
'Impossible Is Nothing' we guess.
Blame rating: 6.2/10
He scores big goals against PSG / CHRISTOF STACHE/GettyImages
The PSG youth product who scored a UEFA Champions League final-winning goal against Les Parisiens in 2020.
Blame rating: 6.4/10
Idrissa Gana Gueye in a PSG shirt / Masashi Hara/GettyImages
Renato Sanches.
Leandro Paredes.
Fabian Ruiz.
Danilo Pereira.
Ander Herrera.
Julian Draxler.
Pablo Sarabia.
Literal Idrissa Gana Gueye.
These players have, or currently, play for PSG. A team who employ footballers like this should be considered a serious football club.
Blame rating: 6.8/10
Benfica topped the group / Soccrates Images/GettyImages
Benfica topped PSG's Champions League group this season, which led to PSG having to face off against Bayern in the round of 16 while Benfica faced off against a team managed by Scott Parker.
Blame rating: 6.9/10
One of the main reasons why PSG lack the ability to press teams high up the park is their decision to let Angel Di Maria leave as a free agent in the summer.
He's still a quality player who is still capable of contributing at the highest level – as his goal in the World Cup final attests.
Blame rating: 7/10
Neymar at Barca / Ira L. Black – Corbis/GettyImages
The architect of Paris Saint-Germain's biggest ever Champions League bottle job.
Neymar put in a career-best performance to dash PSG's hopes of winning the 2017 Champions League and their hopes of not being the most meme-able football club in the world.
Blame rating: 7.2/10
Defeat for Neymar and PSG / Anadolu Agency/GettyImages
The 2020 Champions League final was decided by one goal and a multitude of missed chances.
The goal came courtesy of Kingsley Coman, and misses came courtesy of basically every PSG player. The main culprit was perhaps Neymar, who spurned two brilliant opportunities that a player who cost nearly a quarter of a billion would be expected to convert.
Blame rating: 7.7/10
Leonardo failed / FRANCK FIFE/GettyImages
During his first spell as Sporting Director, Leonardo oversaw quite a successful transition for the club from upper-mid-table Ligue 1 team to the undeniable best team in France.
His task during his second spell was to help make PSG the biggest team in Europe. To do that he signed literal Idrissa Gana Gueye.
Obviously that didn't work.
Blame rating: 7.8/10
It's nearly his sister's birthday again / DAVID RAMOS/GettyImages
Fun fact: Neymar has either been injured or suspended for the game which falls around his sister's birthday (11 March) in every single season since 2015.
The birthday parties must be incredible. We at 90min would appreciate an invite for Saturday's bash.
Blame rating: 8/10
Injured again / Eurasia Sport Images/GettyImages
By the end of the 2022/23 season Neymar will have missed 293 days of action for PSG due to ankle injuries.
That's bad.
Blame rating: 8.2/10
Ligue 1 is too easy / Quality Sport Images/GettyImages
We're not going to sit here and call Ligue 1 a 'farmer's league', but what we will say is that the lack of genuinely competitive games week in, week out against top level opposition has hindered PSG's ability to step up their performances in the Champions Leagues.
That's all we'll say about the farmer's lea- I mean Ligue 1.
Blame rating: 8.5/10
Out again / Anadolu Agency/GettyImages
The Barcelona embarrassment, losing to Demba Ba and Chelsea, being dumped out by Ole Gunnar Solskjaer's Manchester United, spurning a two-goal lead in 15 minutes against Real Madrid.
PSG have recorded some of the most stunning defeats in Champions League history.
Maybe there's just some sort of inexhaustible need to bottle these games?
Blame rating: 9/10
Can't buy a Champions League triumph / Chris Brunskill/Fantasista/GettyImages
The owners of the club and, ultimately, the people who decided that it was a good idea to go with a faux Galaticos model of having Messi, Neymar and Mbappe up front.
Did no one tell them that the Galaticos were actually massive failure at Real Madrid?
Blame rating: 10/10
Alex Morgan late game strike gives San Diego Wave opening day win
Alex Morgan powered the San Diego Wave to their first win of the season with a late goal to blast them past the Chicago Red Stars.
In front of a sellout crowd of 30,854 fans at Snapdragon Stadium in San Diego, California, Morgan's 89th-minute penalty sealed all three points for the Wave in a hard-fought match.  The Red Stars and Wave were evenly matched for the majority of the game, with Chicago having a slight edge in possession with 52% of the ball. 
Chicago got on the scoresheet first with a Yuki Nagasato left-footed shot to the top right corner in the 18th minute. But San Diego wouldn't stay quiet after that, quickly equalizing through an Amirah Ali header from close range in the 22nd minute, then doubling their lead in the 32nd minute with a goal from Jaedyn Shaw in the bottom right corner. 
Yet, the Red Stars climbed back into the game with a Mallory Swanson penalty just before halftime. 
However, the Wave was far more determined at the end, culminating in Morgan's penalty in the game's dying minutes. After the victory, Morgan thanked Wave supporters and spoke about their support in getting them the win.
"30,000 in the stands just kept us going. Just to win in our first game, feel good going into the season, there's no better feeling. Hopefully we get 30,000 fans next game."
With over 30,000 fans attending the match, the Wave broke the NWSL attendance record, previously set by the Orlando Pride in 2016, with 23,403 fans.
San Diego will continue their NWSL campaign this weekend at home as they take on the North Carolina Courage. 
Every England player to make their debut under Gareth Southgate
You may regard him as tactically primitive, but you cannot deny that Gareth Southgate has helped a nation fall in love with its national team again.
Success in the form of silverware is yet to arrive, but the Three Lions are edging closer. The current England squad is as likeable as its ever been, and their talent matches their harmonious team dynamics. It's an environment every English footballer wants to be a part of.
Chances have been granted to an endless list of names since Southgate took over, and while some like to criticise the boss for having supposed favourites, there's no denying he's handed out opportunities to every player who's deserved a shot of making a name for themself on the international stage.
Southgate has handed out 55 England debuts since he took over as boss in September 2016. Here's a list of every single one.
Jesse Lingard was the first debutant of Southgate's tenure / Catherine Ivill – AMA/GettyImages
Debut: October 2016 vs Malta
Southgate's first starting XI as England boss included debutant Jesse Lingard. The late-blooming Man Utd star was a protagonist in the Three Lions set-up for a while and he played a key role in their journey to the World Cup semi-finals in 2018.
He's scored six times in 32 caps for England.
The West Ham defender deputised against Spain / Catherine Ivill – AMA/GettyImages
Debut: November 2016 vs Spain
An injury to Danny Drinkwater – remember him?! – saw steady West Ham defender Aaron Cresswell earn his first England call-up.
His international career was brief as he only made three appearances, and he made his debut in a 2-2 draw with Spain at Wembley.
Michael Keane didn't keep a clean sheet on debut / Matthew Ashton – AMA/GettyImages
Debut: March 2017 vs Germany
Southampton tandem Nathan Redmond and James Ward-Prowse both made their England bows in a March 2017 friendly against Germany. It was Redmond's only appearance for his country.
Burnley defender Michael Keane started the contest on his first cap as England were beaten 1-0.
Kieran Trippier played a major role in England's 2018 World Cup and Euro 2020 campaigns / THOMAS SAMSON/GettyImages
Debut: June 2017 vs France
The scorer of one of England's greatest ever goals given the context, Trippier's international career started in Paris as Southgate's side were beaten by ten-man France.
Ousmane Dembele scored the winner 15 minutes from time after Raphael Varane was sent off at the start of the second half.
Trippier has since earned 41 caps for his country, with his only goal arriving in a World Cup semi-final.
Two Harry's made their debuts against Lithuania in October 2017 / AFP Contributor/GettyImages
Debut: October 2017 vs Lithuania
Two Harrys were spotted in an England shirt for the very first time in Lithuania.
This was the beginning of Southgate's love affair with Maguire, who has been a cornerstone of his tenure, while Winks has drifted out of the limelight after initially promising so much.
Jordan Pickford was one of five players to deputise in a friendly against Germany in November 2017 / Laurence Griffiths/GettyImages
Debut: November 2017 vs Germany
This Wembley friendly against Germany saw a bunch of new faces make their respective debuts. Southgate handed five players their first cap in this fixture.
While Cork (one cap), Abraham (11 caps), Gomez (11 caps), and Loftus-Cheek (ten caps) have each struggled to make a name for themselves on the international stage, Pickford has blossomed into a cult hero.
England's number one has barely put a foot wrong since his integration and has starred at three major tournaments.
20-year-old Dominic Solanke in action against Brazil / Clive Rose/GettyImages
Debut: November 2017 vs Brazil
A 20-year-old Dominic Solanke hadn't even kicked a ball in the Premier League when he made his England debut against Brazil in November 2017.
He hasn't been capped since, but that isn't to say his international career is over just yet.
Lewis Cook hasn't been capped since his debut / Laurence Griffiths/GettyImages
Debut: March 2018 vs Italy
Lewis Cook's only England cap netted the player's grandfather £17,000 after he placed a £500 bet at the odds of 33-1 that his 18-year-old grandson would win a senior England cap before his 26th birthday.
Cook was just 21 on debut.
James Tarkowski also made his debut in the same friendly against Italy, but he'd win just one more cap for the Three Lions.
Trent's England career started just before the 2018 World Cup / Alex Livesey/GettyImages
Debut: June 2018 vs Costa Rica
Trent's tumultuous relationship with the national team began just before the 2018 World Cup against Costa Rica. Pickford's second-in-command, Nick Pope, also earned his first cap.
Southgate's pragmatism and preference for caution have seen the revolutionary right-back overlooked on the international stage. As a result, for all his talent, the Liverpool defender has notched just 18 England caps.
Ben Chilwell's debut arrived just after the World Cup in Russia / Robbie Jay Barratt – AMA/GettyImages
Debut: September 2018 vs Switzerland
England returned to action a couple of months after their World Cup heartbreak where Southgate introduced blossoming Leicester defender Ben Chilwell to his squad.
Danny Rose was on the decline, and fresh blood at left-back was needed. Chilwell and Luke Shaw have since emerged as Southgate's preferred options down the left.
Jadon Sancho earned his first England cap after starring in the Bundesliga / Michael Regan/GettyImages
Debut: October 2018 vs Croatia
This has to be one of the most eagerly-anticipated debuts of the Southgate era, right? Only a few English supporters had caught a glimpse of Jadon Sancho in the Bundesliga before he made his international debut in a Nations League draw with Croatia.
The former Man City academy star has since teased his magic for the national team, but fierce competition in wide areas has often left him on the periphery.
Weird link-ups / Quality Sport Images/GettyImages
Debut: October 2018 vs Spain
How did this happen then?
Callum Wilson scored off the bench on debut / Shaun Botterill/GettyImages
Debut: November 2018 vs USA
Most of you will remember this as being Wayne Rooney's final game in an England shirt, but it should be remembered for Alex McCarthy's second-half cameo between the sticks on his sole England cap.
Callum Wilson also scored on debut.
Lynchpin Declan Rice impressed on his first England cap / Ashley Western/MB Media/GettyImages
Debut: March 2019 vs Czech Republic
Another cornerstone of Southgate's England, Declan Rice made his bow under the current incumbent's watch.
The West Ham midfielder had seen his prestige soar in east London, but the vast majority were more intrigued by what Callum Hudson-Odoi could do on debut.
The highly-rated Chelsea teenager became the youngest-ever player to represent England in a competitive international – a record that barely lasted 18 months.
Southgate was quick to integrate Mason Mount into his setup / Marc Atkins/GettyImages
Debut: September 2019 vs Bulgaria
Chelsea's transfer ban forced Frank Lampard's hand during the start of his reign as Blues boss. Thus, academy graduates such as Mason Mount were given a chance to shine, and shine he did.
The elusive midfielder made an immediate impression on Southgate, who quickly called him up to his squad for Euro 2020 qualifiers against Bulgaria and Montenegro. Mount's first cap arrived off the bench in a 4-0 thumping of the former.
He's since been regarded as a highly-valued asset to the Three Lions squad and has earned 36 caps.
Tyrone Mings deputised in difficult circumstances / Catherine Ivill/GettyImages
Debut: October 2019 vs Bulgaria
Mings conducted himself admirably in awful conditions on debut.
The Aston Villa defender was subject to racist abuse in Bulgaria which forced England's Euro 2020 qualifier to be halted twice. It was the visitors who had the last laugh, though, as the hosts were thumped 6-0 as Mings kept a clean sheet.
The left-footed centre-back was later named in Southgate's Euro 2020 squad and he impressed when called upon.
The Leicester playmaker has only been used sparingly by Southgate since his debut / Laurence Griffiths/GettyImages
Debut: November 2019 vs Montenegro
Southgate has struggled to make room for a player of Maddison's profile in his starting XI, especially at major tournaments. A 3-4-3 was utilised at Euro 2020 before the manager introduced a 4-3-3 at the 2022 World Cup.
Southgate's hesitance to use the creative Maddison has been a distinct source of frustration among supporters. The Leicester playmaker has criminally played just twice for his country. Almost three-and-a-half-years separated his two caps.
The Milan star has oddly been shunned by the boss despite impressing in Serie A / Michael Regan/GettyImages
Debut: November 2019 vs Kosovo
Southgate's shunning of Tomori is nothing short of bizarre. The defender earned his debut after breaking through at Chelsea, but he's since gone from strength-to-strength at Milan.
Tomori helped the Rossoneri to their first Scudetto in a decade in 2021, but he's constantly been overlooked in the England conversation.
To be fair, he does have elite competition in the form of Eric Dier.
Phil Foden was integrated after the initial wave of the Covid-19 pandemic / Tom Jenkins/GettyImages
Debut: September 2020 vs Iceland
Phil Foden's England bow was long overdue, but the Covid-19 pandemic brought about delays to the international schedule and the Man City star was forced to wait until September 2020.
England claimed a late 1-0 win, and Foden is yet to dazzle on the international stage.
Mason Greenwood also made his debut.
Jack Grealish replaced fellow debutant Kalvin Phillips in a 2019 Nations League clash against Denmark / Michael Regan/GettyImages
Debut: September 2020 vs Denmark
This was a drab Nations League affair, but at least we got to see Jack Grealish in an England shirt for the first time.
This was the start of the nation's love affair with the Brummie, although such adoration dwindled after his big-money move to Man City. The crafty winger replaced fellow debutant Kalvin Phillips, while Ainsley Maitland-Niles and Conor Coady also earned their first caps.
Bukayo Saka's England career began against Wales / CARL RECINE/GettyImages
Debut: October 2020 vs Wales
Four players made their debuts in an October 2020 friendly against Wales, including the irresistible Bukayo Saka and Chelsea full-back Reece James.
Leicester winger Harvey Barnes also made his England bow, while Dominic Calvert-Lewin became the 12th Englishman since 2000 to score on debut.
Hey, Jude. / Pool/GettyImages
Debut: November 2020 vs Republic of Ireland
17-year-old Bellingham smashed Hudson-Odoi's record when he made his debut in a friendly victory over the Republic of Ireland in November 2020.
Dean Henderson also made his England bow, but this contest will be remembered as the starting point of Jude's international legacy.
The sky's the limit for the ludicrously gifted midfielder.
Ollie Watkins cashed in against San Marino on debut / Visionhaus/GettyImages
Debut: March 2021 vs San Marino
Watkins cashed in against minnows San Marino and joined the list of players to score on their England debuts.
The Aston Villa man has been in red-hot form this season, but the presence of a certain all-time record goalscorer means his opportunities in an England shirt have been limited. He could be around Southgate's setup for a while, though.
Two Bens deputised against Austria before the Euros / Stu Forster/GettyImages
Debut: June 2021 vs Austria
Ben Godfrey was the beneficiary of a bloated squad ahead of the delayed Euros as England took on Austria in a friendly before the tournament got underway.
He didn't make the final squad, although fellow debutant Ben White did. The Arsenal star was also picked in Southgate's squad for the 2022 World Cup before departing early for specific reasons unknown.
What happened to Sam Johnstone? / PAUL ELLIS/GettyImages
Debut: June 2021 vs Romania
Johnstone was a steady customer at West Brom and he was named in Southgate's Euro 2020 squad.
He kept a clean sheet on debut against Romania, but Pickford's brilliance meant he never got a sniff at the Euros. Injuries have since seen him fall out of the England picture.
Patrick Bamford's sole England cap arrived against Andorra / James Williamson – AMA/GettyImages
Debut: September 2021 vs Andorra
Marcelo Bielsa had Bamford playing some of the best football of his career and he was duly rewarded with an England call-up.
Lingard starred in the 4-0 win over Andorra in what is Bamford's only England appearance to date.
Emile Smith Rowe made his first England cap after starring for Arsenal / GLYN KIRK/GettyImages
Debut: November 2021 vs Albania
Smith Rowe earned his first call-up and cap almost a year on from his breakout Premier League appearance against Chelsea on Boxing Day 2020.
He's featured three times for his country, scoring once, but injuries have taken their toll over the past year.
It was a quiet outing for Aaron Ramsdale on debut / Jonathan Moscrop/GettyImages
Debut: November 2021 vs San Marino
Ramsdale's first England cap was a breeze as England put ten past San Marino in a World Cup qualifier. Despite his impressive form for Arsenal, Pickford's reliability for the national team means he's only earned three caps.
Conor Gallagher also took to the pitch that night, and he's since emerged as a useful option off the bench for Southgate.
Crystal Palace defenders Marc Guehi and Tyrick Mitchell both made their England debuts against Switzerland / PAUL ELLIS/GettyImages
Debut: March 2022 vs Switzerland
Crystal Palace duo Marc Guehi and Tyrick Mitchell have combined for five England caps since they made their debuts against Switzerland in a friendly last year.
There was no clean sheet for starter Guehi as Breel Embolo opened the scoring. Kyle Walker-Peters also started the game on his first England appearance.
Jarrod Bowen tasted defeat on debut / James Williamson – AMA/GettyImages
Debut: June 2022 vs Hungary
These two were the most recent debutants before the March international break.
England were beaten 1-0 by Hungary away from home when James Justin and Jarrod Bowen, who's been capped four times, made their England bows.
Ivan Toney replaced Harry Kane to make his debut against Ukraine / Visionhaus/GettyImages
Debut: March 2023 vs Ukraine
And finally, number 55: Ivan Toney.
Brentford's talisman has been in sparkling form this season, and an England call-up was fully deserved. His cameo off the bench against Ukraine was pretty uneventful, but it may well be the first off many appearances for his country.
He's well worth keeping around for his penalty spot brilliance alone.
READ NEXT
Andy Robertson hits back at Spain's sportsmanship in loss to Scotland
Scotland captain Andy Robertson accused Spain's players of "going down a little bit easily" and "rolling around" in an ill-tempered encounter at Hampden Park on Tuesday night.
Robertson was part of a backline which limited Spain to precious few chances as Scott McTominay bagged a brace to secure a famous 2-0 victory for the hosts. Referee Sandro Scharer whistled for 28 combined fouls, although Spain – despite their protestations – were adjudged to have committed more offences (15) than Scotland (13).
The Liverpool full-back was not impressed with the behaviour of Luis de la Fuente's side, telling Viaplay after the match: "I think they were going down a little bit easily. We were trying to say that [to the referee]. We were always going to try and be physical; we wanted to be in their faces, we wanted to win our headers and we wanted to win our challenges. I think we done that and I don't think we crossed the line.
"I think they were, especially in the first half, rolling around a wee bit much," Robertson added. "They used their experience and they got a couple of us booked which is fair enough to them. I think we did win that battle and I think we got under their skin a wee bit, especially the first half. And then they made a couple of subs in the second half, bringing on a wee bit more experience in [Dani] Carvajal, who doesn't really get caught up in these things."
Spain's skipper on the night, Rodri, accused Scotland of play-acting as well. "It's the way they play…for me it's a bit rubbish," the Manchester City midfielder sniffed. "Because it's always wasting time. They provoke you. They always fall. For me, this is not football."
Robertson, unaware of that criticism, was keen to praise his team – which he described as "an absolute joy" to captain.
"It was an all-round top performance from us all and we're really happy tonight. But, like I said, we need to go back to our clubs now and we can't wait for June. But we have to put the same commitment, the same determination, the same quality in. If we do that, then it will put us in a good position," he added.
READ NEXT
Scotland kicked off their qualification campaign for the 2024 European Championships with a 3-0 victory over Cyprus on Saturday, putting Steve Clarke's side top of the early standings in their five-team group – two of which will automatically qualify for the finals in Germany.
After seeing Scotland endure a 23-year absence from major international football, Robertson was quick to downplay his nation's fast start. "It's important we all don't get carried away," he stressed. "We've got six points, which is a great start but unfortunately six points doesn't qualify us for the Euros.
"We've got two massive games in June," the left-back continued. "If we come out of those games with the points we think we need, it'll put us in a fantastic position."
McTominay broke the deadlock against Spain after just seven minutes, setting Scotland on their way to the nation's third-ever competitive victory against La Roja. "We knew we had to try to get off to a good start, put them under pressure, get the fans with us – and I think we did a really good job of that," Robertson explained.
"When you score so early, you kind of fall back a bit, and we were defending too deep at the end of that first half. But I thought the second half was a really professional performance and shows how far we've come.
"The gaffer and his team set us up so well tonight, we knew we had the game plan and could cause them problems.
"We had belief. When the gaffer took over that was what was lacking. There was a disconnect between players and fans. Playing in front of a full crowd makes a massive difference, but you've got to back it up with performances."
On this edition of Talking Transfers, part of the 90min podcast network, Scott Saunders, Graeme Bailey & Toby Cudworth discuss Julian Nagelsmann's future and links to the vacant Tottenham head coach role, Barcelona's ambition to bring Lionel Messi 'home', Brighton teenager Evan Ferguson, Florian Wirtz, Kalvin Phillips and more!
If you can't see this embed, click here to listen to the podcast!