Premier League storylines to look out for: Gameweek 23 Gameweek 22 was one of the craziest of the Premier League season so far, but it's time to switch our focus to this week's action.
From fierce derbies, to crucial fixtures and the first sight of Manchester City after their earth-shattering financial allegations, there's plenty to get excited for as gameweek 23 rolls around.
Here are ten things to look out for.
Felix is back in the fold / Clive Rose/GettyImages
Joao Felix's 60-minute Chelsea debut was chaos from start to finish.
The Atletico Madrid loanee threatened to become the second coming of Eden Hazard before being shown a straight red card which has kept him out of the Blues' last three games.
Felix is finally back in contention for Graham Potter's side, who may need him to get through West Ham and the Great Wall of Nayef Aguerd.
Jones is under immense pressure / Robin Jones/GettyImages
Nathan Jones took aim at everything to do with Southampton after their recent loss to Brentford, and he threw Welsh women under the bus recently in an attempt to prove his love of a challenge.
"I could have stayed in a mining community, been a PE teacher and had a nice life, married a nice Welsh girl. Beautiful. I didn't. I want to test myself on every level. And that's nothing against Welsh women," he said… for some reason.
Will he find that beautiful wife when Wolves come to town? He may have plenty of extra time on his hands to sample the dating scene if Southampton don't win, that's for sure.
Conte could be back on the sidelines / Visionhaus/GettyImages
Antonio Conte has recovered from surgery to remove his gallbladder and has been back at Tottenham's training ground ahead of the trip to Leicester.
Just whether the Italian will be back on the touchline for that game is unclear, however, as assistant Cristian Stellini confirmed Conte has been ordered to take it easy for a little while – something he notoriously does not do.
Leicester, and in-form signing Tete, will be doing all they can to ensure nobody in the Spurs squad gets an easy afternoon.
Arsenal were stunned by Everton / Clive Brunskill/GettyImages
Arsenal's good mood was sent crashing down to the ground last week with a shock 1-0 defeat to Everton, and they even had to thank Tottenham for doing them a favour against Man City later in the weekend. Yuck.
Mikel Arteta will demand a reaction but has the unenviable task of countering Thomas Frank and Brentford, who have been among the biggest thorns in the top sides' rear ends this season.
Ivan Toney gave Ben White and Arsenal nightmares early last season – can he do it again?
Mac Allister will return / Malcolm Couzens/GettyImages
The return of Alexis Mac Allister from suspension will do wonders for Brighton's attempts to match pace with the rest of England's Champions League hunters.
Even with games in hand on their rivals, Brighton are right in the mix and they'll fancy their chances against a Crystal Palace side who feel like they could be one or two results away from a drastic change in the dugout.
Brighton haven't lost in six games, and Palace haven't won in six either.
Fulham host Forest / Marc Atkins/GettyImages
Nottingham Forest and Fulham were both among the pre-season favourites to head straight back down to the Championship, but both have done incredibly well to dismiss that narrative.
Fulham are on the cusp of the European spots, and while Forest aren't totally out of danger just yet, they've opened up a healthy lead over the drop zone which should ease some pressure.
A Forest win would move them five points behind Fulham with a game in hand. Steve Cooper's side are coming for the Cottagers.
Howe heads back to Bournemouth / George Wood/GettyImages
It seems like an eternity ago that Eddie Howe was a plucky underdog scrapping for his life with Bournemouth.
The Cherries may be locked in another relegation battle this season, but Howe has moved on to pastures new and is looking to secure Champions League football with Newcastle, who are yet to spend enough money to make everyone hate them.
A win would be massive for Newcastle but could also send Bournemouth to the bottom of the table if results elsewhere go against them.
A sprinkling of deja vu / Naomi Baker/GettyImages
Just days after their 2-2 draw, Leeds and Manchester United will butt heads again.
Leeds will hope for more of the same, but for Man Utd, it's all about coping without Casemiro better than they did first time around. Fred and Marcel Sabitzer are the only fit senior midfielders on the books, and they struggled to replicate the Brazilian's impact.
Erik ten Hag has had a few days to try and sort something out, but with limited options, he's facing one of the toughest tests of his time in England.
City will host Villa / Matthew Ashton – AMA/GettyImages
Aston Villa may call themselves the Villans, but they're undoubtedly more popular right now than a Manchester City side who have been called a lot worse than Villains since the financial allegations against them were revealed.
City's job is to stay focused here. There's been a whole lot of noise about players getting sold and the team even being booted from the Premier League, but none of that can be Guardiola's concern here.
Having slipped up against Tottenham last time out, no such mistakes can be made here if City want to keep up with Arsenal in the title race.
A Merseyside derby to round things off / Visionhaus/GettyImages
Everton's unlikely win against Arsenal last weekend will give them a new level of confidence as they head into a Merseyside derby against a wounded Liverpool side.
Games in England don't get much feistier than this one, and it's been a while since both Everton and Liverpool have been under this sort of pressure. Neither side can afford a defeat.
It sounds like a red card waiting to happen, and we're all for it.
READ NEXT: The 50 most expensive football transfers of all time
Tottenham weighing up decision on Antonio Conte future
Tottenham chairman Daniel Levy is weighing up whether to sack manager Antonio Conte this week, 90min understands.
While Spurs remain fourth in the Premier League, limp exits in the FA Cup and Champions League threw the Italian's future into doubt and his meltdown at Southampton plunged the club further into crisis.
90min revealed earlier on Monday Tottenham could be forced to pay Conte a whipping £15m if they dismiss him before the end of the season.
Now, sources have confirmed Conte is back in Italy for a routine trip to his homeland having held talks with Spurs boss Levy. A final decision has not yet been reached but a number of officials at the club believe Conte's position is untenable.
Tottenham Hotspur: Who is to blame?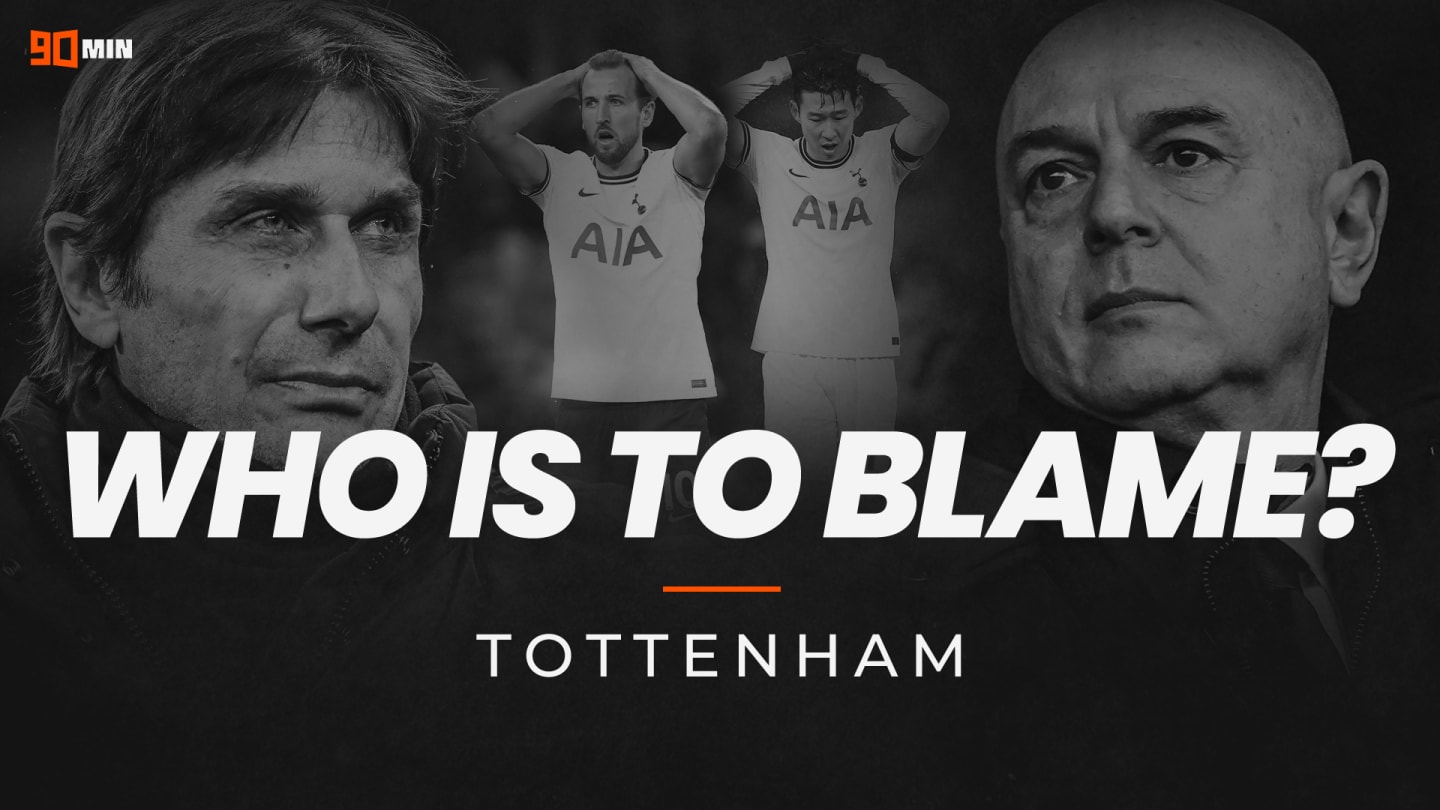 Here at 90min towers, we've realised that there is always at least one Premier League club in relative crisis at any given time. In tribute, they are christened as the 'crisis club of the week'.
But Tottenham Hotspur have crossed a line. You can't keep continuously wrestling back the championship belt (you know, proverbially – we all know about the trophy drought). There must be a price to pay.
As such, we've had to dust off the old 'who is to blame?' gimmick instead. So, who really is to blame for Spurs' current distress?
Here comes trouble / Suhaimi Abdullah/International Champions Cup/GettyImages
Blame rating: 0.1/10
Look at him. That big smile. Those big shoes. Those big wings.
He is everything wrong with Tottenham Hotspur.
Fresh creps, to be fair / Matthew Ashton – AMA/GettyImages
Blame rating: 0.2/10
What's worse than one big giant cockerel?
TWO big giant cockerels.
Why always him? / Alex Livesey/GettyImages
Blame rating: 0.5/10
It's time to hop in the time machine. It's time for some domino-effect interrogating.
Midway through the 2011/12 season, Tottenham had separated themselves from the top-four chasing pack and were within touching distance of Premier League title contenders Manchester City.
In a crunch game at the Etihad Stadium, Spurs fought back from two goals down to level it at 2-2. Mario Balotelli somehow escaped a red card for stamping on Scott Parker's head, and would score a stoppage time penalty to seal a win for Man City and send Tottenham's campaign into a tailspin.
That's why they're still stuck fighting for top-four finishes now.
One of these is not like the others / Mike Hewitt/GettyImages
Blame rating: 0.75/10
With Tottenham in the midst of that title fight, they recruited Ryan Nelsen and Louis Saha on free transfers on deadline day.
How do you think it went?
Triffic / Michael Regan/GettyImages
Blame rating: 1/10
But the person most at fault for such a collapse is Harry Redknapp. Or more specifically, his dog Rosie.
During a trial of two counts of cheating the public revenue, Redknapp explained to a court that he set up a Monaco bank account with Rosie's name because he loved her so much.
All the while, Spurs' season was going down the pan and he was flirting with the England job.
How could you do this, Rosie?
Best buds / Gonzalo Arroyo Moreno/GettyImages
Blame rating: 1.5/10
At the end of Redknapp's tenure, star midfielder Luka Modric was sold to Real Madrid, with Spurs announcing they had entered a special 'partnership agreement' with the Spanish giants.
Gareth Bale joined Real Madrid a year later.
Etched in history / Clive Rose/GettyImages
Blame rating: 2/10
Though Juande Ramos is also Real Madrid alumni, his connection to Tottenham is for a very different reason.
He was the last manager to win a trophy with Spurs. Much better managers have followed in his wake and failed. What a lottery.
Got no hair but we don't care / Malcolm Couzens/GettyImages
Blame rating: 2.1/10
Ramos won the cup, but that team spiritually belonged to Martin Jol. He's just as culpable.
It's evil. / Michael Loccisano/GettyImages
Blame rating: 2.5/10
Because you can't blame who Spurs are and what they're about without referencing Lasagna-gate 2006. I don't want to go into it, though. Too painful.
Blame rating: 3/10
One of Tottenham's most famous fans just happens to be someone who can also sell out Wembley – how are Spurs supposed to live with that pressure?
But speaking of Wembley…
What a cursed sight / Catherine Ivill – AMA/GettyImages
Blame rating: 3.5/10
Tottenham had outgrown their old White Hart Lane stadium and had to move on. During construction of a new ground, they had to play at Wembley – a soulless stadium which was a nightmare to get to and from.
Spurs were unbeaten in their final season at White Hart Lane and lost their first game at Wembley. Go figure.
You sicken me / Visionhaus/GettyImages
Blame rating: 4/10
Tottenham haven't quite felt the benefits of their new home just yet. Why not? Why can't a stadium play at wing-back?
What could have been… / Tim Boyle/GettyImages
Blame rating: 4.1/10
Among proposals for Tottenham Hotspur Stadium were a cheese room as part of the club's luxury offerings.
It did not make the final blueprints.
Getting ready for Camden Hells (A) / IAN KINGTON/GettyImages
Blame rating: 4.5/10
Beavertown have a microbrewery inside the new stadium. They now run a pub where the old ticket office stood. I am the proud owner of Beavertown x Spurs merchandise.
They truly run the world.
This used to be a proper country / Mike Hewitt/GettyImages
Blame rating: 5/10
The NFL have a 10-year agreement to play matches at Tottenham Hotspur Stadium. There is a specific-use American football pitch underneath the soccer one.
It's just not football anymore.
READ NEXT
You despicable man / David M. Benett/GettyImages
Blame rating: 5.1/10
Tottenham Hotspur Stadium featured on an episode of Richard Hammond's Big.
Did the club further need their ego stroked? No.
Is the episode any good? Oh yeah, really great. Rivalries aside, definitely go watch it.
Blame rating: 5.2/10
Do podcasters even say anything interesting? Anything noteworthy? Are they worth the hassle? Everyone's got a bloody podcast these days.
Anyway, please subscribe to Oh What A Night, part of the 90min podcast network. Hosted by me.
Have a day off, ref / Soccrates Images/GettyImages
Blame rating: 5.5/10
The referee who gave a handball against Moussa Sissoko 22 seconds into the only Champions League final Tottenham might ever play.
I hope you're proud of yourself. You ruined it for everyone.
We embezzled funds from our Christmas party budget to pay for the rights to Dybala's image here so you better enjoy it / Quality Sport Images/GettyImages
Blame rating: 5.6/10
Off the back of reaching that Champions League final, Spurs made an audacious move to sign Paulo Dybala from Juventus.
He didn't seem overly keen on the deal anyway, but a move fell apart on deadline day as Tottenham could not legally work their way around an issue with the forward's image rights.
Great.
Same / Clive Brunskill/GettyImages
Blame rating: 6/10
Jose Mourinho was hired to get Tottenham over the line in their pursuit of a trophy.
He took the club backwards instead.
Well done for doing your job, I guess / SOPA Images/GettyImages
Blame rating: 6.1/10
Tottenham were handed a boost in their 2020/21 UEFA Europa League last 16 tie with Dinamo Zagreb when it was confirmed that manager Zoran Mamic had been sentenced to four years in prison.
Spurs managed to blow a two-goal lead and lost the second leg 3-0. Maybe if Mamic was let off the hook things would have been different.
His real name is Charles, by the way / Jurij Kodrun/GettyImages
Blame rating: 6.2/10
Off the back of that surprise elimination, the social media manager of Joe Hart – who spent just one season at Spurs – praised the result on the goalkeeper's Instagram page, assuming that Tottenham wouldn't have ballsed it up.
Hart issued a public apology for the incident, but the damage was done.
Daft dog / Jordan Mansfield/GettyImages
Blame rating: 6.5/10
This really was a time where bashing Tottenham was the lowest of hanging fruits. Even Dulux – who had become the club's official paint supplier days earlier – posted tweets mocking their empty trophy cabinet.
Job done / Max Mumby/Indigo/GettyImages
Blame rating: 6.6/10
"Lads, it's Tottenham."
This utterance from Fergie set up a generation of Spurs jokes.
Yeah alright mate / Soccrates Images/GettyImages
Blame rating: 6.7/10
Ah, the man behind the modern person's Spurs proverb.
"It is in the history of the Tottenham."
That's another generation sorted.
Tottenham High Road, take me home… / Kate McShane/GettyImages
Blame rating: 7/10
The best fried chicken in north London, why must you always tempt us back to N17?
Sources (Matt Le Tissier and David Cotterill) suggest the secret ingredient is Chirpy.
Blame rating: 7.5/10
Ok, I'm only being half-satirical with this list. 75% at a push. 100% if you think I'm a moron.
But there are genuinely Tottenham fans who think that Beyonce playing concerts at the stadium this summer is an awful thing which somehow ties to the club's ambitions.
What is he cooking? / Chris Brunskill/GettyImages
Blame rating: 8/10
Is it a good thing when your managing director of football could be banned from football for two-and-a-half years for financial irregularities?
Probably not.
Blame rating: 8.6/10
Antonio Conte was meant to be different. He was hired to get Tottenham over the line in their pursuit of a trophy. He took the club backwards inst- hey, didn't I say this already?
Get a life / Chloe Knott – Danehouse/GettyImages
Blame rating: 8.7/10
The unlikeliest of heroes, all things considered. 271 goals for Tottenham Hotspur, and by dumb modern-day logic, none of them mean anything.
What a sad little life, Harry.
Truly dark days / Matthew Lewis/GettyImages
Blame rating: 8.8/10
Well, Tactics Tim, you always wanted to take credit for Kane becoming one of the best players in the world.
Time to have your cake and eat it.
For goodness sake / Ryan Pierse/GettyImages
Blame rating: 9/10
Whooooo remembers '4th – Arsenal' jokes?
No but seriously the Gunners have made the leap Spurs were supposed to and it's causing misery down the other end of the Seven Sisters Road and I hate it.
Blame rating: 9.1/10
Lord Sugar was the owner of Tottenham during one of the worst stretches of their entire history. Nowadays, he just tweets discriminatory things and hosts The Apprentice.
Quite a brush for the club to be tarred with.
A bit unfortunate that this image makes him look like a super villain / Robin Jones/GettyImages
Blame rating: 9.5/10
Objectively and subjectively, Tottenham have made huge strides under Daniel Levy's chairmanship.
They've also stagnated in recent years because of some really poor decisions and refusal to learn from mistakes.
Levy giveth, Levy taketh away.
He's magic, you know / Justin Setterfield/GettyImages
Blame rating: 10/10
Here he is. The man who raised the bar, who made modern Tottenham Hotspur the club they are today.
It's only right that he should be forced to return and sort out this mess. Who's with me?
Nottingham Forest midfielder Lewis O'Brien joins D.C. United on loan
Nottingham Forest midfielder Lewis O'Brien is officially headed to Major League Soccer. 
The player will join D.C. United on loan through July 16, though the contract contains a purchase option.
As reported previously by 90min, the two parties agreed to terms for the temporary stint after head coach Wayne Rooney convinced O'Brien of the project at D.C. United.
"Lewis has been one of the best players in the Championship over the last few seasons," Rooney said in a release. "He reads the game well and creates goal-scoring opportunities. Bringing him in on loan from Nottingham Forest was a great bit of business for us and he will be a brilliant addition to our midfield."
The player's future was initially at risk when failing to secure a transfer to Championship high-fliers Blackburn Rovers on deadline day. Director of football Gregg Broughton revealed Rovers experienced "internal and external" reasons that led to late submission, and the club appealed the decision in the hope of the move being ratified.
But the EFL rejected the bid as Rovers had not submitted all of the required paperwork in time.
The unfortunate outcome left O'Brien unable to feature for the remainder of the season, after Forest did not name him in their 25-man Premier League squad for the second half of the campaign.
But Rooney stepped in with the chance at a new chapter with the Black and Red in Major League Soccer. O'Brien will now join D.C United with one goal in 17 appearances under his belt. He stands as D.C.'s third Premier League addition in the last six months after striker Christian Benteke arrived last summer from Crystal Palace and Mateusz Klich joined this winter from Leeds United.
Under Rooney, D.C. United has seen a decent start to the 2023 campaign with four points in four games and a 1W-1L-1D record. After concluding the 2022 season in last place of the Eastern Conference, the head coach hopes the new additions will propel the team out of the bottom and into the playoffs.