Spotted: Dembele nearly loses his phone celebrating Barca comeback win in El Clasico
Pedri and Ousmane Dembele were both at Camp Nou to watch Barcelona beat Real Madrid in Sunday's El Clasico.
It was anticipated that the Barca boys on the sidelines would get excited when they completed the comeback to win the game after being down 1-0 in the first half.
Particularly, Dembele was overexcited. As he celebrated the Barca goal, his phone flew out of his pocket and onto the floor.
In celebration, Pedri gave him a hug after Barca won the game 2-1.
Source: Mireiaok
Mourinho's shocking reaction to AS Roma goal in UEL final spotted
In a thrilling Europa League final clash against Sevilla, AS Roma gained the upper hand with a remarkable goal from the talented Paulo Dybala.
As jubilation engulfed the players and fans, one man remained composed amidst the frenzy – none other than Jose Mourinho.
With a serene demeanor, he repeatedly emphasized the need for 'calma, calma,' reminding everyone that the job was far from complete.
What's truly intriguing about this situation is that Jose Mourinho has showcased such composure in the past. It was just last year during the Conference League final when he exhibited a similar demeanor.
When Roma managed to find the back of the net, ultimately securing the solitary goal of the match, Mourinho was quick to encourage his team to maintain their coolness and composure.
It's evident that Mourinho's experience and strategic mindset have instilled in him the ability to keep a level head in high-pressure situations. Recognizing that success is not achieved until the final whistle, he diligently imparts his wisdom to the players, urging them to remain focused and composed throughout the game.
As AS Roma's journey in the Europa League final continues, one can be certain that Mourinho will be there, guiding his team with his unwavering calmness and determination.
The lessons learned from past experiences will undoubtedly play a crucial role in shaping Roma's approach as they strive to secure victory in this momentous final.
Xavi: Dropping Alba and Pique gave me sleepless nights
Xavi, the coach of Barcelona, recently opened up about the challenges he faced when making the decision to drop his former teammates, Gerard Pique and Jordi Alba. Pique, who retired from professional football just before Christmas, and Alba, who is set to depart the club this summer, have shared many memorable moments on the field together.
Acknowledging the difficulty of parting ways with longtime friends and teammates, Xavi expressed his emotions regarding the situation. The coach understands the significance of their contributions to the team over the years and the strong bonds they have developed. Making the decision to drop them from the squad was undoubtedly a tough task for Xavi, given the personal connection he has with both players.
Gerard Pique's retirement marked the end of an era at Barcelona. Having been a vital part of the club for over a decade, his absence will undoubtedly be felt both on and off the field. Pique's leadership qualities and defensive prowess have been instrumental in Barcelona's success throughout his career.
As Barcelona undergoes a period of transition, Xavi will continue to face difficult choices regarding personnel. However, with his wealth of experience as a player and now as a coach, he is well-equipped to navigate the challenges that lie ahead. The departure of Pique and Alba will undoubtedly leave a void in the Barcelona squad, but with Xavi at the helm, the team will be determined to build upon their legacies and create new chapters of success.
Xavi said: "When you have to make decisions contrary to what the player would like, it starts to be difficult. I had to tell Piqué to step aside, that he would play less. It was even hard for me to sleep, because we had enjoyed a lot together.
"With Jordi Alba you have the feeling that you are failing as a friend, but you have to prioritise the team.
"It happened to me with Luis Enrique, you don't understand it, you have the feeling that you have to play after so many years as a starter."
"Jordi got angry, you have to understand it. But later there was a group chat and he told us that he was one hundred percent committed. And that's how it was, like Piqué. They knew how to leave at the right time."
'What it looked like' – Balde reveals the painful reality of sports injuries
On Sunday at the Camp Nou, a distressing incident unfolded as Balde fell victim to a brutal tackle from Amath Ndiaye, resulting in the Mallorca winger receiving a straight red card.
The severity of the challenge forced Balde to be escorted off the field, with medical professionals and Jules Kounde lending their support as he received treatment for his ankle, displaying visible signs of agony.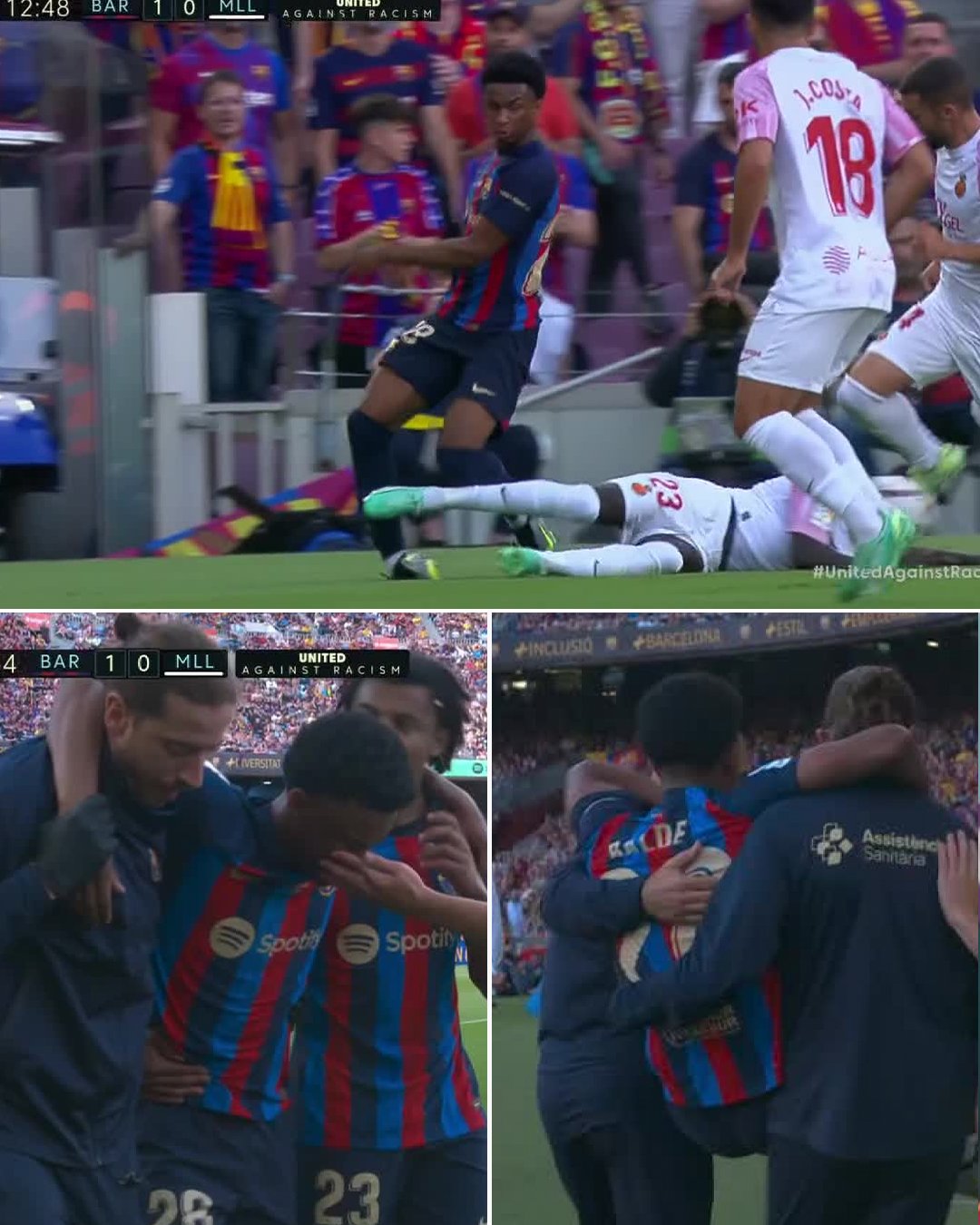 Few days after Barcelona's youngster break the silence concerning his current injury status.
"Injuries are a bitter part of sport. Thank goodness, it is less serious than what it looked like," Alejandro Balde writes on Instagram.
"Thank you all so much for the messages of support and love! Now it's time to recover well and come back stronger than ever before! 🐆⏳" he adds.
Initially, it was anticipated that Balde's absence from the pitch would extend beyond two months. However, there is now a glimmer of hope as recent developments suggest a potential earlier return to action.
The injury to Alejandro Balde, combined with Jordi Alba's departure from the club, leaves Barcelona with Marcos Alonso as the sole natural left-back for the early preseason. This situation highlights the pressing need for reinforcements in that position.
Throughout the season, Balde showcased remarkable talent and secured a regular spot in the starting lineup for the Blaugrana. His impressive performances resulted in an impressive tally of eight goal contributions, further emphasizing his significant impact on the team.