Supercomputer predicts end of season table as Arsenal and Man City battle for the title
Arsenal and Manchester City are competing to be England's Premier League champions, and the race for the title appears to be going down to the wire.
Arsenal wants to become champions for the first time since 2003, while Manchester City wants to win their third title in a row.
The Gunners currently lead the table by eight points, eight points ahead of City, despite having played one more game than their rivals.
On April 26, the two teams will meet at the Etihad in a match that will have a significant impact on where the Premier League title goes this season.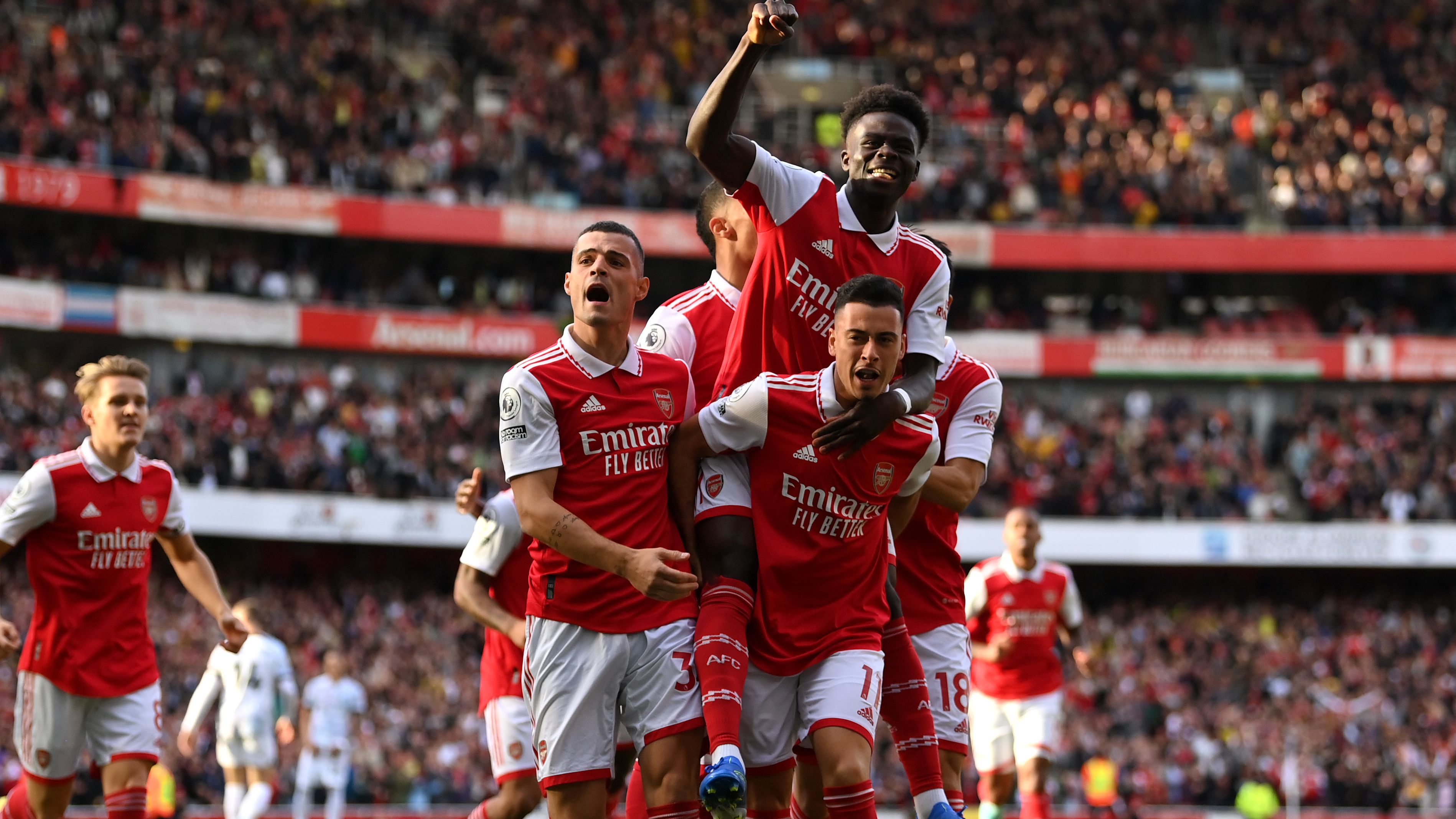 The battle for the final two Champions League spots between Newcastle, Manchester United, Tottenham, Brighton, Brentford, and Liverpool is also set for a dramatic conclusion.
In contrast, Crystal Palace and Southampton are only seven points apart in 11th and 20th place, respectively, in the table's bottom nine.
After running a simulation 100,000 times, bettingexpert's supercomputer BETSiE attempted to predict the final Premier League table. It took into account a variety of data points, including expected goals and goals against, and predicted that Arsenal would win the title over City.
It predicted that Arsenal would win the title by about three points over City, with Arsenal finishing with an average of 88.1 points compared to City's 85.2.
With an average of 71.2 points, Newcastle is expected to finish third, ahead of Manchester United, which is in fourth place (69.3).
With an average of 64.1, Tottenham finishes fifth and qualifies for the Europa League, narrowly missing out on a spot in the Champions League.
Premier League end of table prediction
1) Arsenal – 88.1 points on average
2) Manchester City – 85.2 points on average
3) Newcastle – 71.2 points on average
4) Manchester United – 69.3 points on average
5) Tottenham – 64.1 points on average
6) Brighton – 62.9 points on average
7) Liverpool – 60.7 points on average
8) Brentford – 54.6 points on average
9) Aston Villa – 52.4 points on average
10) Fulham – 50.4 points on average
11) Chelsea – 50.1 points on average
12) West Ham – 41.6 points on average
13) Crystal Palace – 41.5 points on average
14) Leicester – 37.9 points on average
15) Bournemouth 37.9 points on average
16) Leeds – 37.8 points on average
17) Wolves – 37.3 points on average
18) Nottingham Forest – 36.2 points on average
19) Everton – 36.2 points on average
20) Southampton – 33.2 points on average
Liverpool in contact with agent over two promising midfielders
According to recent reports, Liverpool has been in direct contact with the agents of Manu Koné and Khephren Thuram once again this week.
The club is engaged in internal discussions regarding official proposals for the two midfielders.
However, Liverpool has requested some additional time to finalize the deal for Alexis Mac Allister before making a decision on pursuing the signings of Koné and Thuram.
According to Fabrizio Romano, "Internal discussion taking place over official proposals. Liverpool asked for some time to close in on Mac Allister deal then decide on new midfielders."
This indicates that Liverpool is actively working on strengthening their midfield options and is considering potential additions to their squad.
The club is carefully evaluating their options and prioritizing their transfer activities. As negotiations progress and decisions are made, football fans will be eager to see how Liverpool's midfield could potentially be reshaped for the upcoming season.
REVEALED: Sadio Mane's potential transfer to Newcastle
According to Sport 1's podcast Die Bayern-Woche, Bayern Munich is reportedly keen on selling Sadio Mane during the upcoming summer transfer window.
It is suggested that the Senegalese forward is no longer part of manager Thomas Tuchel's plans following a somewhat underwhelming campaign.
Bayern Munich is hoping to persuade Newcastle to acquire the 31-year-old, as the Magpies are among the few clubs capable of matching Mane's current salary of €20 million per year.
However, despite the potential transfer speculation, Mane himself is reportedly keen to remain at Bayern and prove his worth to his critics.
In his debut season with Bayern Munich, the former Liverpool forward scored 12 goals and provided five assists in 38 appearances.
Official: Chelsea signs promising Ecuadorian star Kendry Paez
Chelsea Football Club has officially announced the signing of Kendry Paez, the talented midfielder from Independiente del Valle. The Ecuadorian player will join Chelsea after he turns 18, and he has already established himself as one of the most promising and creative young talents in South America.
In their statement, Chelsea emphasized Paez's exceptional abilities, highlighting his skilful dribbling, vision, and technique, which enable him to unlock defences with his precise passing. His arrival at Chelsea further strengthens the club's commitment to nurturing and developing young talent.
"The Ecuadorian, who will join Chelsea after his 18th birthday, has already built a reputation in South America as one of the brightest and most creative young talents around, thanks to his combination of skilful dribbling along with the vision and technique to open up defences with his passing," Chelsea said in statement.
"Paez caught the eye by finding the net on his senior debut for his club this year, becoming the youngest debutant and scorer in the Ecuadorian top flight. He has six senior appearances to his name this season in addition to making his continental debut in a 2-1 Copa Libertadores win over Corinthians at the start of May.
"He has also starred at the Under-17 Copa America, registering two goals and six assists while captaining his country, before getting another goal and three assists as he started all four of Ecuador's matches at this summer's Under-20 World Cup.
"He was previously named as the top talent at the 2022 Next Generation Trophy, a prestigious youth tournament in Austria featuring clubs from all over the world."