The rational case behind a Mauricio Pochettino reunion at Tottenham Ah, Tottenham Hotspur, there's always something going on, isn't there?
Spurs' season has unravelled at the seam over the last 10 days. FA Cup humiliation at the hands of Championship side Sheffield United was bad enough, a meek Champions League elimination to AC Milan earlier this week took understandable hysteria over the top.
Wednesday night's atmosphere was the third truly mutinous occasion at Tottenham Hotspur Stadium since inauguration. The first saw 10,000 returning fans chant for chairman Daniel Levy to leave in May 2021, before 50,000 more turned on head coach Nuno Espirito Santo five months later for a questionable substitution.
When Antonio Conte – his side desperately in need of a goal to save their season, but having just been reduced to ten men – looked back at his bench on Wednesday night and felt compelled to replace forward Dejan Kulusevski with centre-back Davinson Sanchez, palpable apathy turned into vocal hostility.
Boos echoed and bounced off the walls, an arena specifically designed to amplify acoustics created a bowl of bitterness.
Perhaps more startlingly were the chants which followed. Those unmistakable Pilot lyrics were firstly sparse, but come full-time, they were reverberating through the stadium's bowels, screamed into the night sky along Tottenham High Road.
"He's magic, you know, Mauricio Pochettino! He's magic, you know, Mauricio Pochettino!"
READ NEXT
For the first time since his departure in 2019, Pochettino's name was sung to the north London heavens.
90min understands he would be interested in returning to Tottenham. It's now a matter of when Conte vacates his post rather than if.
There are other names Spurs are considering for the post – Luis Enrique has been linked to the job, while Brighton's Roberto De Zerbi and Brentford's Thomas Frank are also admired.
The noise around Pochettino has quietened back down a bit over the last 48 hours, but he remains a viable candidate. The big problem, however, is losing yourself in the theatre of it all and seeing it as a marriage of convenience, a re-coupling of desperation. As 90min's Jack Gallagher once said, "Emotionally, Spurs fans are four pints deep at all times. Pochettino is a perfect fit for that."
But there would be some method behind the madness of going back to an ex.
Let's reassign the name of the club Pochettino managed between 2014 and 2019. Say it were a side of similar stature to Spurs – a Roma, a Valencia, somewhere between a Borussia Dortmund and an RB Leipzig. He guided them to a record points tally which was just short of winning the domestic title, took them to a Champions League final against all odds, revolutionised a whimpering team identity having found a club in crisis.
It fizzles out after half a decade as most modern jobs do, and after a year out of the game, Pochettino is finally given the keys to a super-club job in PSG. His efforts are par-for-the-course, he's dismissed, but they have the same institutional problems moving forward in his absence anyway.
That's exactly the sort of managerial candidate Tottenham would be looking at – a proven project manager who has tasted the elixir of the elite but will unlikely have a strong desire to return for seconds so soon.
You can't completely ignore the context, however. Spurs are an emotional club, Pochettino an even more emotional human being – four pints deep, four pints deep.
They drifted apart because they were burned by their co-existential flame. His name has been uttered every week by fans and media alike even in the three-and-a-half years without him. That undoubtedly matters in the case against him.
A flag adorning Mauricio Pochettino at Tottenham Hotspur Stadium during Jose Mourinho's first home game as head coach / Catherine Ivill/GettyImages
There are other doubts – real doubts, not the ones about whether he's good enough a coach to win a Carabao Cup – though they do largely have caveats.
It went under the radar that Pochettino could not spring forth another tactical evolution in his final two years at Spurs. The closest he came was the interrupted integration of the talented but flawed Tanguy Ndombele. When the Premier League caught up with Tottenham's pressing, they weren't special anymore.
But this could be attributed to two huge factors. An 18-month period without any new signings was a huge reason why their run to the Champions League final was one on fumes, one which left everyone involved with the club completely spent and in desperate need of a getaway to the uninhabited reaches of this godforsaken planet.
Pochettino's other major criticism was his belittling of cup competitions. He insisted that winning a domestic trophy would not 'change the life' of Tottenham, that silverware served to unnecessarily boost players' egos.
And yet despite this rampant disparaging, he came closer to ending the club's trophy drought than the serial winner managers who followed in his wake. In five seasons, Pochettino's Tottenham reached five semi-finals and two finals. Only once were his Spurs eliminated from a competition by a team from a lower division (2019/20's Carabao Cup defeat to Colchester on penalties). It's happened twice already since.
The need to break this duck is more paramount than ever. It would be much, much harder for that same nonchalant rhetoric to fly, to 'throw' the cups.
There's also an argument that Pochettino's squads were too thin to maintain pushes on four fronts. The same cannot be said of the rosters assembled by Jose Mourinho or Conte, the latter of whom has refused to necessarily rotate his team across an incredibly packed schedule.
Tottenham are also at a slightly different stage of their club development cycle now. They had a net spend of £90m during Pochettino's – a sum laughably dwarfed by all of their 'big six' rivals bar Chelsea, who were banned for one summer window in that period.
Pochettino navigated Spurs through their transitional period from White Hart Lane to Wembley to Tottenham Hotspur Stadium. He had a say in the designs of their billion-pound ground and their Hotspur Way training ground. His fingerprints remain in a physical sense as well as metaphorical, but scarcely had the chance to work with the same tools his unsuited successors had.
While these may be good reasons to resume a previous project, returning to the past will always have pitfalls. But there is a just cause beyond nostalgia and romance, at least.
Europa League final 2023 tickets: Prices for Budapest decider & where to buy
Tottenham director Fabio Paratici banned from football worldwide by FIFA
Tottenham managing director of football Fabio Paratici has been banned from football worldwide after FIFA extended the punishment imposed in Italy following his involvement in Juventus' penalised accounting practices.
In January, the Italian giants suffered a shock 15-point deduction after the club was deemed to have inflated player transfer values in swap deals among other financial offences.
Paratici joined the Juventus hierarchy in 2010 and was the club's sporting director between November 2018 and the summer of 2021, before he took up a similar role at Tottenham. The investigation into Juve's accounts scrutinised transactions between 2019 and 2021 – when Paratici was at the heart of the club's dealings.
At the start of the year, Paratici was one of several former Juventus board members that were banned from football following the conclusion of the investigation by the Italian Football Federation. Initially, Paratici was handed a 30-month ban from just Italian football, although the threat of extending the scope of that punishment internationally always loomed.
On Wednesday, FIFA released a statement confirming that they had indeed taken up that option, extending the ban handed out to Paratici and the other Juventus board members – including former owner Andrea Agnelli – worldwide.
READ NEXT
The statement read: "FIFA can confirm that following a request by the Italian FA (FIGC), the chairperson of FIFA disciplinary committee has decided to extend the sanctions imposed by FIGC on several football officials to have worldwide effect."
Paratici was due to be in court this week for a a preliminary committal hearing regarding a portion of the charges levelled at Juve, but the date for those proceedings have been shunted back to 10 May. Juve appealed their 15-point penalty – which the prosecution only recommended as a nine-point punishment – and will hear the ruling of which on 19 April.
LISTEN NOW
On this edition of Talking Transfers, part of the 90min podcast network, Scott Saunders, Graeme Bailey & Toby Cudworth discuss Julian Nagelsmann's future and links to the vacant Tottenham head coach role, Barcelona's ambition to bring Lionel Messi 'home', Brighton teenager Evan Ferguson, Florian Wirtz, Kalvin Phillips and more!
If you can't see this embed, click here to listen to the podcast!
Sir Alex Ferguson & Arsene Wenger inducted into Premier League Hall of Fame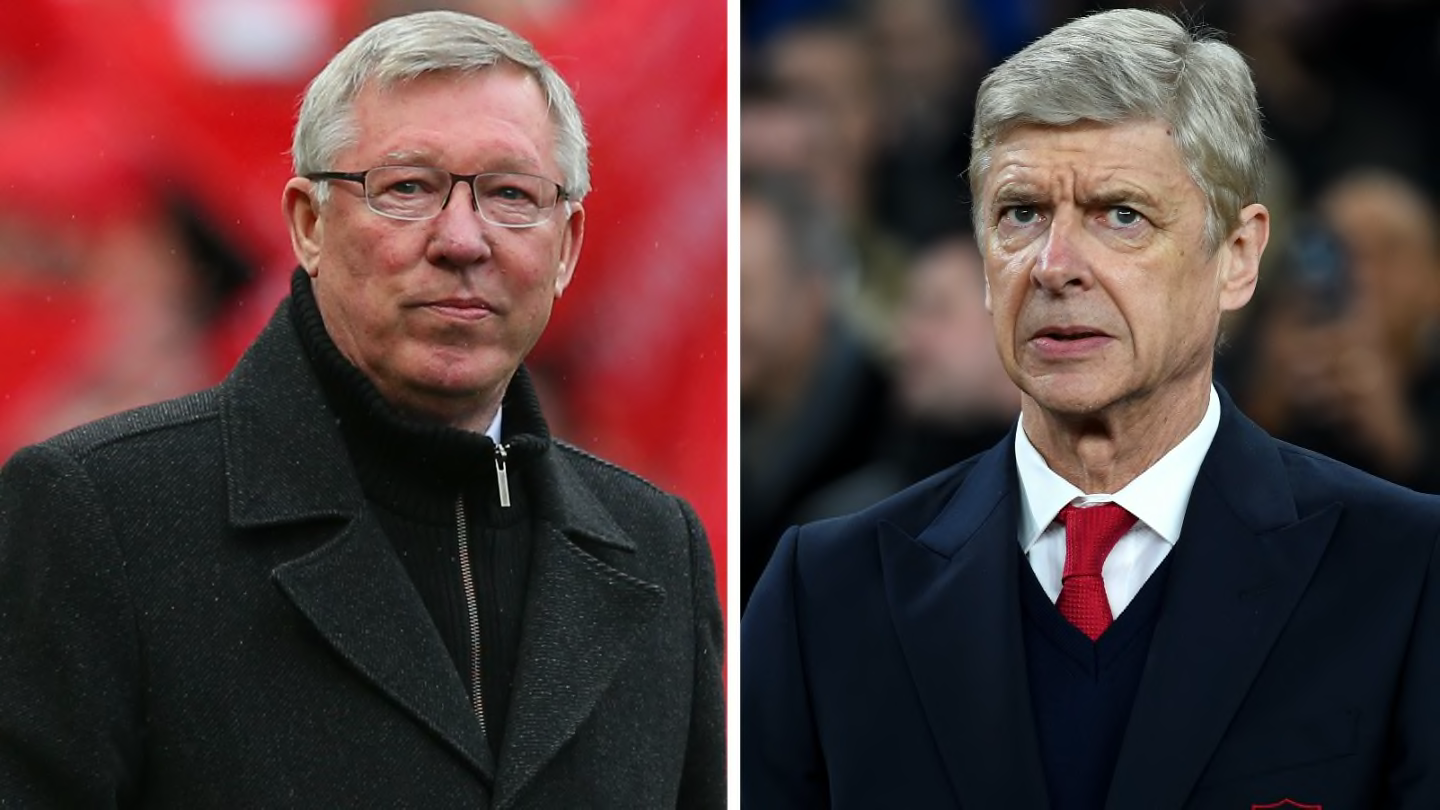 Sir Alex Ferguson and Arsene Wenger have become the first managers to be inducted into the Premier League Hall of Fame.
The duo won 16 Premier League titles between them across respective long-term spells with Manchester United and Arsenal.
With 13 of those championships, Ferguson is the most decorated manager in the history of the competition. He is the only coach to have won the Premier League three times in a row, doing so on two different occasions.
Ferguson said: "I'm truly delighted to be inducted into the Premier League Hall of Fame. It's an honour when you receive recognition like this. However, it's not just about me as a person. It's about the job at Manchester United and the bond we had over many years, so I'm also proud for the club, the staff and my players.
"My job was to send the fans home happy. United's history and my own expectations were the things that drove me, and I then had to try and develop all my players with the same expectations and make sure we could go out and achieve them.
"I feel Arsene is a very worthy inductee as he transformed Arsenal Football Club fantastically. They became a tough team to compete with and we both wanted to win, which motivated us further. Through the years since retirement, we'd go for dinner together in a little restaurant he knows well in Switzerland. He is a really interesting man and I enjoy his company, but it is still my job to pick the wine!"
READ NEXT
Wenger arrived in England in 1996 as one of the Premier League's first foreign coaches, and quickly proved sceptics wrong, transforming Arsenal into title winners and changing English football's culture with his scouting and dietary expertise.
The Frenchman won three Premier League titles with Arsenal, including an unbeaten 'Invincibles' season in 2003/04.
Wenger said: "I am very grateful to have been selected for the Premier League Hall of Fame. We always wanted to give something special to the fans and when you have players capable of remarkable things, the most important thing for me is the obligation of perfection.
"I'd like to be known as someone who loved Arsenal, who respected the values of the club and left it in a position where it can grow and become even bigger.
"To share this with Sir Alex is a great honour for me. It's like two boxers, you fight like mad and go the distance together. At the end of the day, you have respect and it will be a great opportunity to meet with him, share a good bottle of wine and memories of our old battles."
In addition to Ferguson and Wenger, there are 16 other inductees in the Premier League Hall of Fame.
Alan Shearer and Thierry Henry were the first two people inducted when the Hall of Fame was created in 2021. They were followed later that year by Eric Cantona, Roy Keane, Frank Lampard, Dennis Bergkamp, Steven Gerrard and David Beckham.
In 2022, Wayne Rooney, Patrick Vieira, Sergio Aguero, Didier Drogba, Vincent Kompany, Peter Schmeichel, Paul Scholes and Ian Wright were inducted.