'What it looked like' – Balde reveals the painful reality of sports injuries
On Sunday at the Camp Nou, a distressing incident unfolded as Balde fell victim to a brutal tackle from Amath Ndiaye, resulting in the Mallorca winger receiving a straight red card.
The severity of the challenge forced Balde to be escorted off the field, with medical professionals and Jules Kounde lending their support as he received treatment for his ankle, displaying visible signs of agony.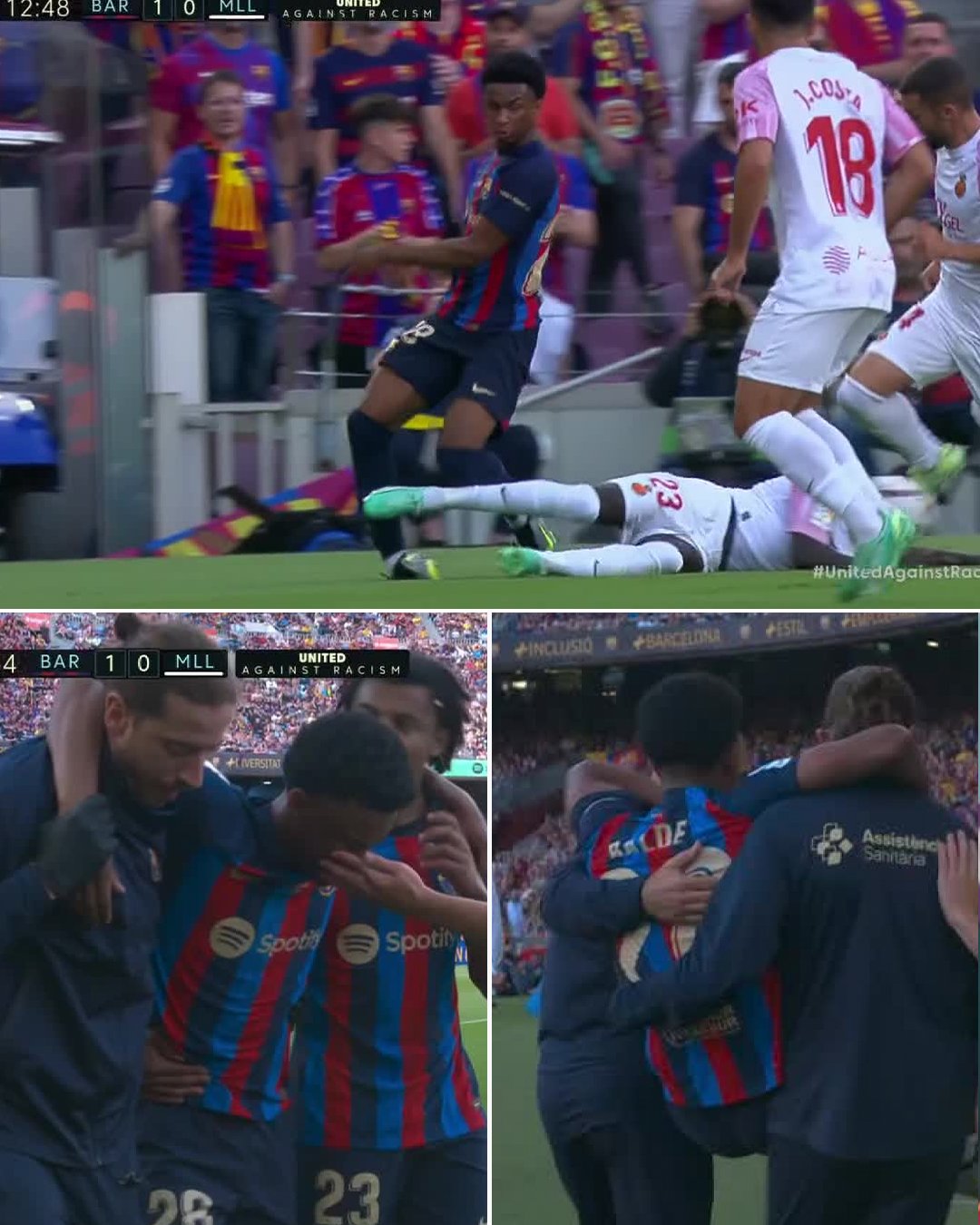 Few days after Barcelona's youngster break the silence concerning his current injury status.
"Injuries are a bitter part of sport. Thank goodness, it is less serious than what it looked like," Alejandro Balde writes on Instagram.
"Thank you all so much for the messages of support and love! Now it's time to recover well and come back stronger than ever before! 🐆⏳" he adds.
Initially, it was anticipated that Balde's absence from the pitch would extend beyond two months. However, there is now a glimmer of hope as recent developments suggest a potential earlier return to action.
The injury to Alejandro Balde, combined with Jordi Alba's departure from the club, leaves Barcelona with Marcos Alonso as the sole natural left-back for the early preseason. This situation highlights the pressing need for reinforcements in that position.
Throughout the season, Balde showcased remarkable talent and secured a regular spot in the starting lineup for the Blaugrana. His impressive performances resulted in an impressive tally of eight goal contributions, further emphasizing his significant impact on the team.
Nigeria/Benin bid in forefront as Algeria withdraw from race to host 2027 AFCON
The joint bid by Nigeria and neighboring Republic of Benin has emerged as a strong contender in the race to host the 36th edition of the Africa Cup of Nations in 2027, according to CompleteSports.
The Confederation of African Football's Executive Committee will vote on the bids for both 2025 and 2027 in Cairo on Wednesday.
Morocco is nearly guaranteed to host the 2025 finals, leaving Nigeria and Republic of Benin competing with Senegal, Egypt, Botswana, and a tripartite arrangement of Uganda/Kenya/Tanzania for the 2027 event. Algeria, initially a strong candidate for the 2027 event, withdrew from the race.
Guinea was originally selected to host the 2025 finals but lost the hosting right due to infrastructure and facility issues, compounded by a change in government.
Nigeria has proposed several stadiums for the 2027 bid, the likes of MKO Abiola Stadium, Abuja; Adokiye Amiesimaka Stadium, Port Harcourt; Godswill Akpabio Stadium, Uyo; Teslim Balogun Stadium, Lagos; Ahmadu Bello Stadium, Kaduna; Stephen Keshi Stadium, Asaba; Samuel Ogbemudia Stadium, Benin City and; Sani Abacha Stadium, Kano while Republic of Benin offers the Stade Mathieu Kerekou in Cotonou and the Stade Charles de Gaulle in Porto Novo.
Nigeria has previously hosted and won the 1980 edition of the AFCON and co-hosted the 2000 finals with Ghana.
Official: Real Madrid wonderkid Arda Güler injured again
Just when we were anticipating the return of Arda Güler from his previous injury, a new update has dashed our hopes.
According to the official statement from Real Madrid,
"After the tests carried out on our player Arda Güler by the Real Madrid Medical Services, he has been diagnosed with an injury to the left rectus femoris muscle. Evolution pending."
Despite having trained with the team just a few hours ago, the young Turkish player will not be available for the upcoming Las Palmas clash on Wednesday.
This setback comes after Los Blancos signed Güler in a €20 million transfer from Fenerbahce this summer, yet he has not been able to make a single appearance for the club due to various injuries.
JUST IN! Vet center sue Chelsea's £2bn stadium redevelopment (Details)
Military veterans have reportedly taken legal action to halt Chelsea's £2 billion redevelopment of Stamford Bridge.
The club's plans got approval in July after offering £50 million for the site adjacent to Stamford Bridge, where approximately 100 military veterans and their widows reside.
The veterans, angered by the prospect of being displaced, have escalated their efforts to thwart the sale.
They have sought an injunction to prevent the Stoll Charity trustees, who oversee the apartment block, from selling the property to Chelsea.
The veterans' argument centers on how the sale would negatively impact the local community and harm residents, including vulnerable individuals who have served their country.
One resident, Matthew Bignell, 36, expressed his support for the injunction and his intention to stay in his home to show solidarity with fellow tenants.
Bignell stated that residents are prepared to face eviction rather than leave voluntarily.
This legal action by veterans is a setback for Chelsea owner Todd Boehly, who envisioned a significant stadium redevelopment that would increase capacity from 42,000 to 55,000.
It is another challenge following the club's previous proposal to move to Battersea Power Station in 2012, which faced fan opposition and ultimately collapsed.